An Unexpected Group Just Overtook a Wall Street Titan as a Major Political Donor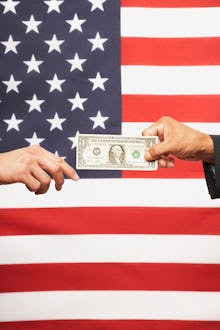 Just call it the revenge of the nerds. 
Google has pulled ahead of Goldman Sachs in the political fundraising race, raising $1.43 million this campaign cycle to the Wall Street darling's $1.4 million.
The Silicon Valley giant's political action committee, NetPAC, has emerged recently as a major player in the money and politics game. It's a significant shift from 2010, when Google spent less than $400,000 on fundraising. Goldman Sachs, for comparison, spent $1.1 million. 
The spending doesn't fall along partisan lines as much as one might think, either. In 2010, for example, 55% of Google's donations went to the Democrats; in 2014, the donations have been split 50-50 between Democrats and Republicans. The Financial Times points out that this fits within a broader trend — in 2010, tech PACs gave 55% of contributions to Democrats, whereas in 2014, Republicans received 52%. 
The reasons for this are simple: business, business, business. 
"The executives of those companies may not always agree with Republicans on social issues, but for a lot of them, at the end of the day, business is business," Reed Galen, a Republican consultant, told the Financial Times. 
So while executives like Google's Larry Page — who publicly opposed Proposition 8, California's initiative to ban same-sex marriage — may come down on the liberal side for some issues, threats to profit evidently take precedence when it comes to pulling the purse strings.
Tech companies are becoming increasingly active in shaping policy. Goldman Sachs has been referred to as "Government Sachs" due to its heavy involvement in politics, but the landscape is changing, and the tech industry is leading the charge. 
Banks and market industries still dwarf the monetary competition — they've donated $121 million during this election cycle so far — but tech companies have given $22.5 million, which is nothing to sneeze at. Microsoft has given $1.78 million in 2014, Facebook has given $479,000 and Intel has spent nearly $900,000.
As the industry has expanded, political interests like regulation, Internet privacy and immigration have become key issues. Dealing with regulation is necessary for any big business — take Apple's antitrust dispute, for instance — but it's particularly acute in the technology sector, where any impediment to innovation can be seen as a threat. (Apple released their latest iPhone model with heightened security, which angered top government officials; immigration is pivotal for foreign workers.)
In the end, Goldman Sachs and Google aren't that different. They're both big businesses looking out for what's important, and that — past, present and future — has been money, honey.