Nigeria Says It Has Negotiated the Release of the Kidnapped Schoolgirls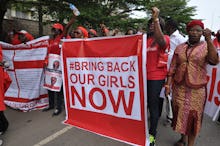 The Agence France-Presse and BBC report that Nigerian President Goodluck Jonathan and the Nigerian military have negotiated the release of a group of schoolgirls kidnapped by terrorist group Boko Haram in April.
Boko Haram kidnapped 276 Nigerian girls from a boarding school in the northeastern town of Chibok. Prior to the announcement, 219 girls remained in captivity after 57 escaped.
Voice of America reported earlier this week that the Nigerian government was in talks with Boko Haram to release the remaining girls and negotiate a cease-fire to a deadly insurgency that has claimed thousands of lives.
An adviser to President Jonathan and a man "calling himself the secretary-general of Boko Haram" told Voice of America "that discussions are under way in Saudi Arabia, aided by Chadian President Idriss Deby and high-level officials from Cameroon."
The news comes days parents and community members protested in front of President Jonathan's villa in the Nigerian capital of Abuja, calling on the government to step up its efforts. Authorities have been reluctant to pursue a military operation over concerns that it might endanger the kidnapped girls' safety, but after six months, patience is running low.
"As far as our girls are concerned, they have been abandoned," Mkeki Mutah, an uncle of two of the kidnapped girls, told Al Jazeera. "There is a saying: 'Actions speak louder than words.' Leaders from around the world came out and said they would assist to bring the girls back, but now we hear nothing. The question I wish to raise is: Why?"