A Federal Judge Just Struck Down Arizona's Same-Sex Marriage Ban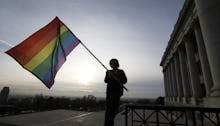 A federal judge has struck down Arizona's same-sex marriage ban as unconstitutional, the Associated Press reports. The judge ruled that the ban denies same-sex couples equal protection under the law.
According to the Associated Press, "the ruling by U.S. District Judge John Sedwick bars state officials from enforcing a 1996 state law and a 2008 constitutional amendment that outlawed [same-sex] marriages".
Sedwick said in his ruling that "because the 9th Circuit Court of Appeals had already ruled against gay marriage bans in Nevada and Idaho, he did not need to give a lengthy reason for his ruling and was bound by the appeals' court decision," the Associated Press notes.
"It is clear that an appeal to the Ninth Circuit would not succeed," wrote Judge John Sedwick. "It is also clear—based on the Supreme Court's denial of petitions for writs of certiorari filed in connection with several circuit court decisions which held that same-sex marriage must be recognized in Indiana, Oklahoma, Utah, Virginia, and Wisconsin—that the High Court will turn a deaf ear on any request for relief from the Ninth Circuit's decision."
The news comes at the same time as big news regarding same-sex marriages in seven states where federal courts struck down bans over the past several weeks:
Read the whole decision here:
U.S. District Court Decision on Arizona Same-Sex Marriage Ban
Editors Note: Mar. 2, 2015 
An earlier version of this article cited Associated Press reporting, but did not include quotations around the cited passage. The story has been updated to fully attribute the Associated Press' language.