Senegal Has Beaten Its Ebola Epidemic. Here's How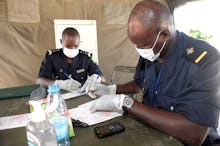 The news: Senegal is now Ebola-free after 42 days without a new confirmed case, the World Health Organization announced Friday, noting the nation has surpassed double the virus's incubation period.
"Senegal's response is a good example of what to do when faced with an imported case of Ebola," the WHO said in a statement.
The country reported its first case of Ebola on Aug. 29, when a young man journeyed from Guinea to Senegal's capital, Dakar. In March, the country closed its borders with Guinea and later with other high-risk countries, including Liberia and Sierra Leone.
How Senegal did it: The WHO's announcement is a major relief amid the historic epidemic that has now taken 4,500 lives. Senegal's strategy for defeating the virus could serve as a model for other countries to protect themselves against a potential outbreak. 
As Fortune notes, the government began taking proper precautions to combat the disease well before the first case was reported:
Before the first confirmed case, the Senegal Ministry of Health had been training health care staff on infection control, laboratory testing, case investigation, and contact tracing, with an oversight committee organized for response. "Prompt notification through an interagency collaboration in Guinea was crucial in this case because the patient did not report recent travel or contact with an Ebola patient," says a study on the CDC's website.
At the same time, health officials acted swiftly to efficiently identify, contain and monitor potential Ebola cases in order to cut down on transmission. Once the government has identified some 67 contacts who may have contracted Ebola, officials swung into action to efficiently isolate patients and stem the spread of the disease. Lo and behold, it worked:
In total, 67 contacts were identified: 34 residents of the home where the patient stayed and 33 health care workers. All contacts, including health care workers, were subjected to 21-day monitoring. This included in-home voluntary quarantine. They were seen twice daily by Red Cross volunteers. Symptoms and temperatures were recorded twice daily. Food was provided.
"The government's response plan included identifying and monitoring 74 close contacts of the patient, prompt testing of all suspected cases, stepped-up surveillance at the country's many entry points and nationwide public awareness campaigns," the WHO said.
"The result was that officials and volunteers embarked on rounds of visits that would take them to an extraordinary 26,000 households," the BBC reports. "A key policy throughout this arduous process was to involve the communities and to encourage people to be as honest as possible about their movements and contacts."
But despite the good news, it's still possible that Ebola could return to the country if authorities do not take the proper precautions. "While the outbreak is now officially over, Senegal's geographical position makes the country vulnerable to additional imported cases of Ebola virus disease," the WHO said. "It continues to remain vigilant for any suspected cases by strict compliance with WHO guidelines." 
"Any country eradicating Ebola is great news right now," writes Vox's Sarah Kliff. "Not just for the health and safety of its citizens, but because reducing the number of countries with Ebola outbreaks frees up much needed resources to fight the disease in places where it continues to spread. And it shows what public health workers have know for decades: this disease is stoppable."