19 Lyrics Prove Donald Glover Is One of the Most Clever Rappers in Hip-Hop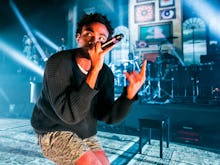 Childish Gambino, aka Donald Glover, is many things: rapper, actor, comedian and comedy writer for 30 Rock and the popular Internet sketch comedy troupe Derrick Comedy. He's also on a hot streak. 
This year alone he's released three albums, each more well-received than the last. He's assembled one of the most talented and flexible live bands in hip-hop. Every little thing he does is eaten up by the press. He recently stopped a concert to show a fan they could take better video if they turned their phone on its side, and the video went viral.
The hip-hop community was initially skeptical of Childish Gambino's foray into hip-hop. Fans mocked the rapper as "inauthentic" and his persona as "emo" and "preposterously self-obsessed." But despite all the shade, over the past 6 years he has built a solid career on great raps that are distinctive for one reason:
They're hilarious. And even when they aren't funny, they're bitingly clever.
With the most hilarious and cutting referential lyrics in the game, he's won over some pretty heavy hitters in hip-hop, including ScHoolboy Q, Funkmaster Flex and Gangsta Grillz, who produced and released Gambino's latest mixtape STN MTN, which has already been certified gold on DatPiff. Here are the 19 quotes that prove he's the quickest man in the game.
1. "I'm in love with you, but this is not tennis / And baby stay stacked like she bad at Tetris"
"Do Ya Like" – Culdesac
Stacks of bills and stacks in Tetris are the only bad stacks ever discussed in hip-hop. Tetris stacks are arguably worse, because stacks of bills are only bad if they're the kind you have to pay.
2. "Set the game ablaze, I'm an arcade fire"
"Be Alone" — EP
This is a very appropriate reference considering the fact that most critics pin Childish Gambino as a white-audience-friendly indie artist, just like the Arcade Fire.
3. "I am runnin' this bitch, you are just a dog walker"
"Freaks and Geeks" — EP
Bitch runner / dog walker: It's an easy pun, but it offers a fresh perspective on a stock hype track line.
4. "Took the G out your waffle, all you got left is your ego"
"Freaks and Geeks" — EP
Take a "g" out of "Eggo," the waffle brand, and there's your pun. Take the gangster imagery out of most rappers' waffling and all you've got left is meaningless, egotistical punning.
5. "Black dudes assume I'm closeted or kinda gay / White people confused like girl on Glee and Gabourey"
"Freaks and Geeks" — EP 
Mercedes Jones and Gabourey Sidibe do not look similar enough to warrant being confused nearly as much as they are (or at all, really).
6. "My dick is like an accent mark, it's all about the over E's"
"Bon Fire" — Camp
Over e's, as in ovaries. This is definitely the most well-crafted dick lyric in the whole Gambino canon. And there are many.
7. "She got ironic tattoos on her back / That ain't ironic bitch, I love Rugrats"
"L.E.S." — Camp
"L.E.S." is a  mockery of hipster culture and its dogmatic love of all things ironic. But some fandoms are too real to be treated ironically — like Rugrats. Tommy Pickles is a real American hero.
8. "If I'm a faggot spell it right, I got way more than two G's"
"You See Me" — Camp
The bank account balance shout-out. Always a good way to silence the haters.
9. "Naw nigga, yeah, we never stop / No period like menopause / No period like, 'Oh shit! Am I the only one you sleepin' with?' / 'Am I the only one you sleepin' with?'
"You See Me" — Camp
Gambino does not discriminate sexual organs in his music. For every 3 dick raps he will spit an equally excellent vagina rap.
10. "I've seen it all, like I'm John Mayer's penis hole"
"Sunrise" — Camp
Though disgusting, this joke apparently holds true.
11. "I got a package like a gangsta, Gmail"
"Who Datt pt. 2" – Royalty
You will never look at your Gmail the same way again.
12. "She on Hollywood and Vine, thinkin' that she Hollywood on Vine / Makin' movies with her friends all the time / Showin' off her ass, that's a net twerk / But I saw through it like a wet shirt"
"World Star" – Because the Internet
Definitely one of the most penetrating attacks on Vine
13. "Put shrooms in my roommate's coffee / And got more likes than a white girl talking"
"World Star" – Because the Internet
It's more than just white girls saying "like," it's really everyone. Thankfully there are some very useful Internet guides out there to help curb the habit.
14. "And I'm out of this world like Tang, nigga / That's a space bar, man, I hate y'all"
"The Worst Guys" – Because the Internet
Every rapper needs a good Tang line. Gambino wouldn't have earned this title if he couldn't deliver one of the best.
15. "Hip deep in the Pepto, I got five on her like Ben Folds / I got more tail than that PetCo, / You faker than some Sweet'N Low"
"Sweatpants" — Because the Internet
Bow before the king of the the pop-culture product reference.
16. "More green than my Whole Foods and I'm too fly, Jeff Goldblum"
"Sweatpants" — Because the Internet
Flier than Jeff Goldblum in The Fly? That's really fly.
17. "Fuck it, got money, bought friends like I'm TBS"
"Life: The Biggest Troll (Andrew Auernheimer)" — Because the Internet
First it was TBS and now it's Netflix — buying Friends has proved an easy way to get some quick buzz.
18. "If your man don't want to lick it, I volunteer as tribute / You niggas on them Hunger Games, I'm eating O's like onion rings"
"Dream / Southern Hospitality / Partna Dem" — STN MTN
Arguably the perfect example of Gambino's style: sex jokes and pop-culture references.
19. "Funny we show 'em class and they call me the class clown"
"Money Baby" — STN MTN
In truth, Childish Gambino has far more dick jokes to his name than most people who consider themselves classy. Yet his rap is encyclopedic in its references and vicious in its wordplay. He's far more than just a class clown.
Correction December 8, 2014: An earlier version of this article incorrectly stated that Donald Glover was a writer on SNL.