Officials Studied the Psychological Impact of Stop and Frisk, and the Results are Alarming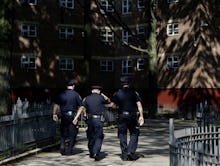 The news: You've done nothing wrong, but suddenly you're surrounded by police officers. They grab you, detain you, order you to identify yourself and make you lie on the ground. They ask invasive questions — what are you doing here? — and frisk your entire body. Sometimes, they're wearing casual clothes and don't even identify themselves as cops until the search is well underway.
Sounds scary, right?
"Stop and frisk" policies, like the one used by the New York Police Department that enables officers to stop and search hundreds of thousands of pedestrians, have been criticized as racist and illegal, targeting minority communities for suppression and aggressive policing. 
But it turns out mass violations of civil rights have more personal side effects, like anxiety and other long-lasting psychological harm. A recent study published in the American Journal of Public Health has linked aggressive policing tactics like street stops to subsequent problems with "compromised mental health," suggesting that stop-and-frisk policies traumatize people.
The study: New York University sociologist Amanda Geller and Columbia University legal professor Jeffrey Fagan interviewed 1,261 New Yorkers from 37 neighborhoods, mostly black or Hispanic males ages 18-26. They found that being stopped and frisked was associated with a number of serious psychological side effects, including symptoms resembling post-traumatic stress disorder and other markers of "compromised mental health."
The Associated Press reports:
Interviewers asked dozens of questions about encounters with police and the justice system. Participants were also asked questions related to anxiety and post-traumatic stress disorder. For example, they were asked whether they tried to remove the time they were stopped from memory, and whether they felt nervous or restless in the past week.
The authors conclude that "any benefits achieved by aggressive, proactive policing tactics may be offset by serious costs to individual and community health" and recommend that law enforcement officials use "less invasive tactics" to police neighborhoods.
What it means: Considering that minority males are targeted at incredible rates for these stops, Geller's and Fagan's study makes the policy look even more deplorable. At the policy's peak in 2011, the CCR reported that a stunning 84% of 685,724 stops were directed at black or Latino residents, who comprise just 52% of the population. That year, those same minority groups were involved in 129,590 use-of-force incidents, compared to just 9,765 whites. The new data suggests that the questionable stops, and probably the disproportionate force used against nonwhite pedestrians, caused serious mental distress to those involved.
In other words, it's what anti-stop-and-frisk activists have been saying all along: Stop and frisk is basically psychological warfare that terrorizes minorities, both as a community and on an individual level. And while cops insist the practice is necessary to keep streets safe, the New York chapter of the American Civil Liberties Union reports just 0.02% of stops in 2013 resulted in recovery of a weapon. That's not even mentioning that traumatizing large numbers of young black and Latino men probably won't encourage them to cooperate with police in the future.
Cops in New York, with a new mayor and police commissioner, conducted 72% fewer stops in 2013 than 2011 but are still singling out minorities. Nationally, stop and frisks are common. The new data is yet more evidence that cops would be better off abandoning them entirely as a cruel and racist byproduct of bad policing.