Parisians Are Flipping Out Over This Unusual Art Installation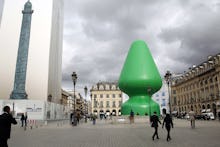 The news: There's a giant inflatable butt plug in the middle of Paris right now.
Um, what: McCarthy's portfolio is interesting, to say the least. Last year, the visionary showcased a huge poop inflatable at an art fair in Hong Kong. He has also designed a delectable treat for this year's "Chocolate Factory," an exhibit producing chocolate gnome figurines equipped with some rather phallic weaponry.
After sitting on it for a bit, it looks like some people are having fun with the jumbo-sized sex toy:
Why it matters: As CityLab points out, Tree pushes the boundaries in terms of objects that "belong" in the private sphere being put on public display. Butt plugs are usually nestled away under layers of socks and underwear in a person's dresser instead of being left out on display due to fear of ridicule. Putting a sex toy the perfect size for Paul Bunyan out in public is unthinkable. That is, until it's put in one of the busiest plazas just to shatter any shame that comes with the pleasure tool.
The inflatable can also be taken as a jab at France's ultraliberal feelings, a place where covering your face in public is illegal, meaning Muslim women can't wear burqas. This regulation of bodies is something that differs from other cultures, but then there's a huge butt plug sitting in one of Paris's most revered locations. The excessive expectation of openness is something that could be seen in both a positive and a negative light. 
Whether McCarthy is a taboo-commentary genius or simply a fan of all things butt-related, "Tree" sure is sticking out.