5 Reasons Latinos Will Permanently Change American Politics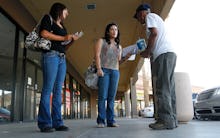 The rise of Hispanic voters as a major political force is arguably the most significant long-term trend playing out on the U.S. political stage. Their emergence has already changed the electoral landscape in significant ways, and their influence will only continue to grow.
According to a new Pew Research Center study, "a record 25.2 million Latinos are eligible to vote in the 2014 midterm elections, making up, for the first time, 11% of all eligible voters nationwide." And that number has been steadily on the rise, reaching record highs in every midterm election since 1974.
The eight states with close Senate races this November don't have large Hispanic populations, so Republicans don't have to reckon with this new reality this year to the same degree that they would in a presidential election. But both Republicans and Democrats will have to take Latino voters' interests into account to a greater degree sooner rather than later. Here's why:
1. More Latinos are eligible to vote than ever before.
Since 2010, the Latino population has grown by 3.9 million to 54.1 million. During that same time, the percentage of eligible voters has risen to 25.2 million, the highest it's ever been.
That growth rate exceeds that of any other racial or ethnic group. However, the number of Hispanic voters across congressional districts varies widely, which is why in this year's midterm elections Latino voters' effect on election results may not be as significant. Pew reports that "in the eight states with close Senate races, just 4.7% of eligible voters on average are Latinos." But even if their votes don't sway these elections, they'll make their presence known in the future.
2. 70% of Latino voters identify with the Democratic Party.
Latinos overwhelmingly prefer Democrats over Republicans, according to the 2012 Pew survey shown above. The imbalance gives Democrats a built-in advantage in future elections and spells trouble for the GOP.
The fact that Republicans have trouble attracting minority voters isn't new. But the extent to which it is a problem for the party only grows as the Latino voting population increases. If Republicans want to win national elections, they'll have to work on connecting to Hispanic voters and begin addressing their concerns, with immigration being at the top of the list. 
3. Latinos' opinions differ significantly from the rest of the population on some key issues.
A one-size-fits-all approach isn't going to cut it when appealing to Latino voters. On big issues like the legalization of marijuana, gun control and abortion, Latino voters' opinions differ from the general public. The charts above show that, in general, Latinos are more likely to support stricter gun laws and increasing the minimum wage and less likely to support marijuana legalization. Interestingly, Latinos are somewhat more likely to say abortion "should be illegal in all or most cases," likely due to the fact that Latinos tend to be more religious than the general population. 
4. Latinos voted for President Obama — big time.
As Pew notes, "Latinos have also strongly supported Democratic presidential candidates in recent elections, giving President Barack Obama 71% of their vote in 2012 compared with 27% to Republican Mitt Romney." The Republican Party's problem attracting minority voters "effectively means that states with a big chunk of electoral votes are out of reach (e.g., California, New Jersey, Illinois)," the Washington Post says. If Republicans want to win the White House in 2016, they'll need to work on boosting their appeal. 
5. 800,000 new Latino voters turn 18 every single year.
By 2024, over 1 million Latinos are expected to reach voting age annually. Hispanic voter-turnout rates have not been as high as those of other racial and ethnic groups, which Pew attributes to the "relative youth of the Hispanic population," as younger people usually turn out at lower rates than older voters. 
But the huge population of Hispanic youth — an estimated 33% of the group's population — will drive substantial population growth. And they will inevitably age, placing them in the group of older voters who are more likely to vote. Once even more Hispanic youth reach voting age, it will be a sea change.
As the American population becomes increasingly diverse, the mindset of politicians must follow suit. Republicans have already gotten flak for not changing with the times, as evidenced by their current unpopularity with women and minorities. With more Latinos now able to vote than ever before and the steady growth of the Hispanic population, Republicans need to act, and fast. Otherwise they won't stand a chance at winning over this crucial group of Americans.