This Secret Space Plane Just Landed After Two Years — And Nobody Knows What It Was Doing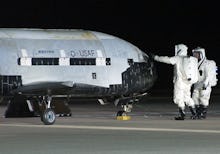 The news: A top-secret air force space plane landed at Vandenberg Air Force Base along the southern California coast on Friday.
"A top-secret space plane landed Friday at an Air Force base on the Southern California coast. The plane spent nearly two years circling Earth on a classified mission. Known as the X-37B," as the Associated Press notes, nobody's sure exactly what the plane was doing during its 674 days in orbit.
The plane, at 9.5 feet tall and just over 29 feet long, is one of the smallest spacecraft in U.S. posession. It weighs 11,000 lbs and has solar panels that unfurl once in orbit. In a release announcing the return of the craft, the Air Force said the craft had been conducting "on-orbit experiments" for two years.
"The 30th Space Wing and our mission partners, Air Force Rapid Capabilities Office, Boeing, and our base support contractors, have put countless hours of hard work into preparing for this landing and today we were able to see the culmination of that dedication," Colonel Keith Balts, 30th Space Wing commander, said in a release. "I'm extremely proud of our team for coming together to execute this third safe and successful landing. Everyone from our on console space operators to our airfield managers and civil engineers take pride in this unique mission and exemplify excellence during its execution."
The theories: Since the program is classified, the plane's purpose has been subject to some spectacular debate. The X-37B "is clearly a military program that no one has necessarily felt the need to justify politically," Laura Grego, a senior scientist in the global security program at the Union of Concerned Scientists, told Bloomberg Businessweek.
"Several experts have theorized it carried a payload of spy gear in its cargo bay," the Associated Press reports. "Other theories sound straight out of a James Bond film, including that the spacecraft would be able to capture the satellites of other nations or shadow China's space lab."
How tenable are these theories? Surveillance seems the most plausible: While the U.S. military has plenty of surveillance satellites in orbit, some suggest that the plane is meant to carry out secret missions on regions around the world. "X-37B is probably carrying prototype reconnaissance gear, for spying on the Middle East and other sensitive geopolitical regions," speculates Sebastian Anthony at ExtremeTech.
Some conspiracy theorists suggest that the X-37B was designed to deploy bombs from orbit, out of the range of air defense systems, but this is highly unlikely. "Changing a spacecraft's orbital plane requires a great amount of thrust — so using something like the X-37B as a bomber would mean changing its orbit to fly over targets, and that would eat up its limited fuel supply," explains Sharon Weinberger at Popular Science.
How about taking out foreign spy satellites, just like in You Only Live Twice? Maybe not so much. "It would be very easy to trace that sort of activity back to the U.S. government since governments and amateurs alike can easily track the X-37B," says Dave Majumdar at the Daily Beast.
So what's the actual purpose of the X-37B? Chances are, we'll never know until the U.S. military declassifies documents related to the program. Until then, observers will have to remain satisfied with taking cues from James Bond.
Editors Note: Mar. 3, 2015  
An earlier version of this article cited Associated Press reporting, but did not include quotations around the cited passage. The story has been updated to fully attribute the Associated Press' language.