13 Photos from the Wage Protests Happening in Britain Right Now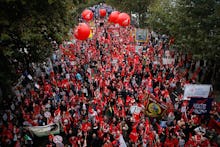 Tens of thousands of public sector works are marching through central London to demand higher wages from the British government.
The Trades Union Congress (TUC), which organized the demonstrations under the slogan "Britain Needs a Pay Rise," claim between 80,000 and 90,000 people have taken part in the London march. The marches followed public sector strikes earlier this week. 
Teachers, nurses, civil servants and hospital workers marched alongside rail and postal workers to show their frustration with pay controls under Britain's austerity program, the BBC reports. 
"After the longest and deepest pay squeeze in recorded history, it's time to end the lock-out that has kept the vast majority from sharing in the economic recovery," said TUC General Secretary Frances O'Grady of austerity cuts to public sector wages in a statement. "The average worker is £50 a week worse off than in 2007 and five million earn less than the living wage. Meanwhile, top directors now earn 175 times more than the average worker. If politicians wonder why so many feel excluded from the democratic process, they should start with bread and butter living standards."
"An economy that finds money for tax cuts for the rich and boardroom greed, while the rest face a pay squeeze and big cuts to the welfare system — that any of us might need — is no longer working for the many," added O'Grady.
A Royal Treasury spokesman told the BBC that the government "had helped workers by cutting income tax, freezing fuel duty and helping local authorities to freeze council tax," while the government claimed that pay restraint "has safeguarded jobs and services."