This L.A. Graffiti Artist's Inspiring Work Will Challenge How You Think About the Homeless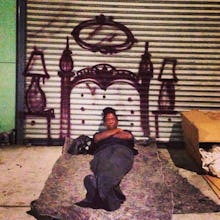 Skid Robot, an anonymous street artist based in Los Angeles, makes luxury appear out of thin air with his work. A canopy bed, piles of money, the Taj Mahal —  he's spray painted it all. 
The artwork itself is only half the story, however. It's the people featured alongside his graffiti that are Skid Robot's true focus. 
His work is found in and around Skid Row, a 54-block section of Los Angeles notorious for its homeless population and grinding poverty. His graffiti creates different scenes around the homeless people in the area: He'll extend a blanket on the ground into a canopy bed on the wall, or a wheelchair into a throne. He adds dream bubbles above people's heads that make them seem as if they're thinking about money, love or a birthday cake — even a gingerbread man made an appearance.
"There's a bigger injustice taking place there that I'm addressing," he told Vice. "I'm painting an image that makes people reflect upon things; makes people stop and look at the homeless person that they've walked by a thousand times, and probably never bothered to lend a helping hand." 
By incorporating the homeless population into his art in such a way, Skid Robot — whose real identity is unknown — is attempting to draw attention to a part of society that he sees as largely ignored. 
It's "taking something heartbreaking that is overlooked as nothing of importance and artistically transforming it into something with meaning that people can enjoy and be inspired by," he said.  
But isn't this somewhat exploitative? Although Skid Robot says he's trying to draw attention to the plight of the homeless, one could conceivably argue that his work uses these people as props — and this was indeed how he felt at first. "At first I felt like a dick doing it—because, you know, I'm somewhat using them as props. But then I realized I should be doing more while I'm out here doing this," he told Vice. 
He began distributing care packages, which included anything from food to toiletries to money. He told the Huffington Post that one man named Ben asked for paper and pencils to draw with, as he appreciated the art and used to draw himself. 
Another man asked for lobster, so Skid Robot and his partner — named Captain Save-a-Homeless — presented him with a lobster and then filmed the exchange. 
"I'm drawing attention to a human being who more often than not is looked at as nonexistent," he told the Huffington Post. "I hardly think that is using them to my benefit."
He told Vice that the reaction from people has been largely positive. "The reception by most people has been positive, and not many people view it negatively, except for the fact that it's like destruction of somebody else's property," he said. 
In the end, he's simply trying to show some empathy. 
"I offer whatever help that I can, I try to get to know some of these people and give them an open ear and heart," he said. "My message is one of compassion, to look out for those who are less fortunate and to do for others."
For more of Skid Row's work, check out his Tumblr or Instagram.
h/t Huffington Post