'American Idol' Is the Defining Show of Our Generation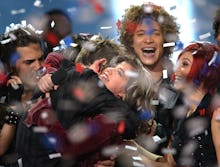 If grew up watching American Idol, you know that the weeks leading up to the show's finale were your version of the NBA playoffs, Super Bowl or World Series. 
You had your favorite players who you supported through failure or success week after week. The show was an emotional tornado: suspenseful, exciting, heartbreaking and awe-inspiring. Most of all, it was addictive, and for seven consecutive seasons, it was the most-watched show on TV. In the process, it laid the groundwork for how we think of pop music today.
According to the BBC, when it first aired, American Idol "brought Fox its best ratings in the evening slot of 8:30 p.m. for more than a year, attracting 9.9 million viewers." Its popularity grew exponentially from there, peaking in its second season, when 38.1 million people watched two very different singers, Ruben Studdard and Clay Aiken, compete for the winning title (Studdard won). To put this number in perspective, according to Nielsen Media Research, more people watched that year's finale than the Academy Awards. Nearly everyone knew that Simon standing up to clap after a performance or Randy calling a contestant "dawg" represented the ultimate achievement in the popular arts.
American Idol anticipated the new mode of pop stardom better than anyone else, and shaped not only the musical sensibilities of our generation, but also our belief in a pop music meritocracy — a world where a kid like Justin Bieber can plausibly hit it big off YouTube videos, since a girl like Kelly Clarkson could make it from an American Idol audition to "Since U Been Gone." And it's indirectly affected dozens of careers: Simon Cowell can now create bands like One Direction out of thin air.
Three years before YouTube was founded, American Idol hooked us with an early form of the viral video — a singer with nothing but an authentic voice and a dream, striking out into the world and finding an audience bigger than anyone could have imagined. Though many shows like The X-Factor and The Voice have tried to replicate American Idol's model, there hasn't been a competition show with even close to the same staying power. 
The features real, talented people who risked it all to fulfill their dreams. Kelly Clarkson started out as a personable, confident girl from Fort Worth, Texas. Now she's accumulated 91 Billboard No. 1 hits and has sold more than 20 million albums worldwide. Clay Aiken was a geeky North Carolinian with a beautiful voice who gained enough confidence and backing from the show that he's running for Congress (to each his own). Many viewers cheered on 19-year-old season three winner Fantasia Barrino as she sought to provide for her daughter. Her rendition of "Summertime" from Porgy and Bess left her, and millions of other Americans, in tears.
The best part is that those weren't just made-for-TV moments. Those stars have proven their staying power. That some of the most successful Idol contestants didn't even win is a testament to the show's influence. Jennifer Hudson, a former cruise ship entertainer from the third season, came in seventh overall. Her powerful voice and her confidence blossomed throughout the competition. Many viewers were upset and shocked to see her voted off, so much so that some even blamed Chicago's power outage for her elimination. Now, the singer has sold more than 1 million albums and more than 2 million singles in the United States, has performed for the Obamas and has acted in her fair share of movies, including her Oscar-winning turn in the film adaptation of Dreamgirls. She released an excellent new album just last month.
The same goes for Adam Lambert, the runner-up in Idol's eighth season, whom The Times of London claimed was "first openly gay mainstream pop artist to launch a career on a major label in the U.S." Lambert's crowning moment on the show: moving Simon Cowell so much with his rendition of "Mad World" that the notoriously hard-nosed judge gave him a standing ovation. Despite his loss, Lambert's first album sold more than 2 million copies, he was nominated for a Grammy and he toured with Queen this year in place of the late Freddie Mercury.
These are not incidental achievements, but rather achievements that have defined our generation's conception of celebrity and pop. 
These days, it may seem like little more than a nostalgic attachment, a model on which inferior shows like The Voice or The X Factor are built. But it's more than that: American Idol was the first step towards the modern musical world. It was our introduction to the shape of a new industry, and for many, a primer on the power of music.