Nigeria Has Officially Beaten Ebola — Here's How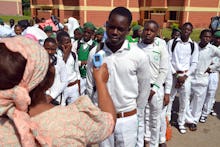 The news: After 42 days without a newly reported case, Nigeria is officially Ebola free, the World Health Organization announced Monday, less than a week after Senegal also surpassed twice the disease's maximum incubation period.
Nigeria is a "spectacular success story," WHO Country Director Rui Gama Vaz said in a press conference in the capital of Abuja earlier Monday.
"But we must be clear that we only won a battle," Vaz said. "The war will only end when West Africa is also declared free of Ebola." 
As of Friday, more than 9,200 people had contracted the virus, and at least 4,555 have died, according to the WHO. Public health experts say the most effective way to reduce the global spread of the outbreak is to stop the disease in West Africa, especially in Liberia, Sierra Leone and Guinea, where it is still quickly and actively spreading.
How Nigeria did it: Nigeria's first Ebola patient contracted the disease in Liberia while he was there helping an Ebola-stricken family member. Shortly after, he began showing symptoms and traveled back to Nigeria via a commercial flight.
Unlike the first case in Guinea, which took several weeks before the person was diagnosed with Ebola, Nigeria's first patient was identified at the Lagos airport. 
The WHO and public health experts are applauding the speed and coordination of the response by the Nigerian government. The country's health ministry collaborated with the Centers for Disease Control and Prevention's office in the Nigeria to declare the disease an emergency and created a center for its operations.
The government also launched a campaign to spread information about symptoms and how to prevent the spread of the disease. Social mobilization teams visited 26,000 families who lived within two kilometers of patients diagnosed with Ebola.
Its swift, coordinated response has set the country apart from the overstretched health care systems of Liberia, Sierra Leone and Guinea.
"To deal with the out-of-control outbreak, there will take immense infrastructure building, staffing, resources and money," Arthur Reingold, head of epidemiology at the UC Berkeley School of Public Health, told Scientific American.
"The longer it takes for them to arrive — or to be put in place — the more difficult the job."