The Problem Isn't 'Gay Sex' on TV, It's the Viewers Who Obsess Over It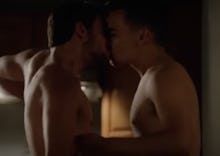 Shonda Rhimes sent shock waves across social media earlier this month with her fierce defense of the unflinching portrayal of gay sex in her new hit show, How to Get Away with Murder. And there's good reason for it, as Rhimes is the latest producer to challenge prevailing attitudes about queer sexuality. 
This groundbreaking work has mainly been done simply by writing LGBT scenes and characters into mainstream plotlines. But this most recent example, particularly on network television, comes without respectability politics — which usually mean the characters are constructed as nonthreatening and not sexual. 
Unfortunately, some people still balk at the sight of a same-sex kiss or steamy sexual encounter, a notion Rhimes was quick to reject.
Seeing straight sex and romance represented on network TV is something heterosexual people have taken for granted, whether it's during a daytime soap opera or a prime-time drama. Worried about alienating audiences and advertisers, executives at the big networks have long trod this territory very carefully, erring on the use of benign depictions of gay couples and sexual encounters, if even shown at all. 
Enter Rhimes' recent scene, which included two men enjoying anilingus, otherwise known as rimming. Believe or not, this may have been one of the best things to happen to television in a long time.
Although the scenes on Rhimes' new show may be seen as pushing the envelope as far as American broadcast network audiences are concerned, it's important to remember that queer love and lust have been depicted in many raw, varied forms on cable and movie networks for years. Shows such as Noah's Arc, The L Word, Queer as Folk and even Oz broke barriers well before the major networks were willing to show a same-sex pair kissing without it being part of some comedic ploy or punchline.
There's been a steep learning curve. Take for example the 1994 Roseanne episode "Don't Ask, Don't Tell," where the comedian Roseanne Barr shares a kiss in a lesbian bar with a female stripper named Sharon. The episode almost didn't make the airwaves because ABC considered it too "taboo." Keep in mind that the HIV and AIDS epidemic was virtually synonymous with queer people at the time, especially gay men in the mainstream, and barely anyone dared to touch the topic of LGBT people, let alone their sexual encounters. 
Ultimately, ABC gave in and let it air, same-sex kissing and all:
Tom Arnold, Roseanne's then-husband and a co-executive producer of the show, told the LA Times that the pushback exposed an unfortunate dilemma in network decision-making. "There seems to be no one in charge there, no set of rules," he said. "You can have nudity on shows like NYPD Blue, you can show a woman getting beat up, but for a woman to be kissed by another woman is too much."
And the reason for that issue — even 20 years later — is unquestionably the stigma that remains attached to queer sexuality. 
Even contemporary hit shows like Modern Family and Glee seemed uncomfortable with their LGBT sexuality. Both shows include non-straight relationships, and yet neither have allowed much affection outside of a subdued occasional kiss or hand-holding. And with similar shows featuring gay characters on network TV in recent years, missing are the portrayals of queer people enjoying the pleasure and even the humor, drama and varied complications surrounding sexual activity. Depicting queer romance in this way — sanitized or watered-down — would never be done for heterosexuals. 
That's what makes a show like How to Get Away with Murder all the more refreshing, because we see the show's main gay character as someone who isn't even in a relationship per se, but who uses sex to obtain key information for legal cases. Connor isn't trying to be anyone's activist or hero, but he's a sexual person. And that type of image, one that's raw and revealing, is a clear departure from a more "respectable" pattern in television. 
Twenty years after the Roseanne kiss controversy, How to Get Away with Murder show creator Peter Nowalk told E! that he and Rhimes never got any pushback about the sex scenes from ABC. In fact, he said viewers can expect more same-sex encounters as the show continues, because "it's part of life."
"I knew I wanted to push the envelope, especially with the gay sex," Nowalk said in the interview. "And to me, writing the gay characterization and writing some real gay sex into a network show is to right the wrong of all of the straight sex that you see on TV. Because I didn't see that growing up, and I feel like the more people get used to two men kissing, the less weird it will be for people."
And that's exactly how it should be.