Taylor Swift Takes Down Sexist Critics With One Very Good Point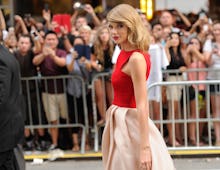 People are constantly speculating who Taylor Swift is singing about in her hits about love, relationships and breakups. But why isn't anyone asking who Ed Sheeran is lamenting over, or why Bruno Mars always has an old beau to sing about? Well, Taylor Swift has the answer: sexism.
BuzzFeed highlights an appearance on Australian radio show Jules, Merrick & Sophie in which she blasts the critics who've berated her for writing too many songs about relationships. Instead of just shaking off what people have said about her, Swift points out that criticism of her music often takes a "sexist angle."
The large amount of hate that the "Out of the Woods" singer gets for writing about relationships is disproportionate to the amount of hate that male artists get, which is usually none, which Swift calls out in her interview in contrast to, say, Sheeran and Mars.
Swift points out that her music has always been about her life, ever since her first album was released when she was 16. Over the years, as she found success, she gained people who want to figure out who she's singing about. But for Swift, even with all the questions, the most important thing has been maintaining artistic integrity by using her life as motivation for her writing.
Preach.
Swift has made the news recently for being a strong feminist, singling out Girls creator Lena Dunham for helping her better understand the true meaning of feminism and backing up Emma Watson's United Nations speech. The music icon has boarded the feminist train and is bringing along anyone who's hoping to get to destination gender equality. 
It's fine to talk about old flames and noteworthy relationships if that's what an artist draws inspiration from. But it's going to be a while until we no longer see the sexist treatment Swift and other female artists get for doing so. Swift's remarks are a good start.
h/t Buzzfeed