2014 Will Be The First Year With No Platinum Records — And That's a Good Thing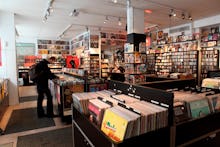 This year will be remembered as the year the recording industry died. It will also be remembered as the year it was reborn.
The way 2014's sales charts are reading, this will be the first year in the history of the Recording Industry Association of America (RIAA) ratings that it won't certify any new platinum records. No album released in 2014 will solidify its legacy by selling 1 million copies. This is the end of the traditional music industry.
And that's a good thing.
The best-selling albums of the year did go platinum, but they were all released in 2013. Beyoncé's self-titled one (which immediately became the fastest-selling record in iTunes history) and Lorde's Pure Heroine are each hovering somewhere around 750,000 sold this year. The Frozen soundtrack is technically the top-selling album of this year and hit over two million more in sales earlier in 2014. But not a single album released in 2014 has hit the milestone.
For context, by this time last year, we already had five platinum records in the vaults, including Justin Timberlake's excellent 20/20 Experience and Eminem's Marshall Mathers LP 2 — both highly acclaimed comeback albums, whose success was guaranteed from the outset. Of the albums released in 2014, only country star Eric Church's Outsiders and Coldplay's lackluster Ghost Stories have put up meaningful sales. 
To some, this is tragic proof that our music culture is getting worse, but that critique is baseless. If anything it's just a sign of how much times have changed and how exciting it is to be a fan now, when artists have to define their success outside of traditional metrics. 2014 has seen a surge in the popularity of streaming services. That has siphoned sales away from more traditional purchasing platforms in a big way, it's also improved access to music and pushed musicians to innovate. We've also had fewer big-name releases this year than last. Perhaps when Taylor Swift's new album comes out in a week, she will land the only platinum album released in 2014.
But whether or not Swift can pull it off, this is mainly good news. It means there's a wide-open playing field. In response to that, we've seen more big artists experiment with packaging and sales strategies than ever before. We saw Thom Yorke release music directly through a torrent client and U2 push a free album into everyone's iTunes libraries. These are the things that make a platinum certification irrelevant. More than 26 million people downloaded and listened to U2's album, and we've only just gotten the chance to buy it. Does it deserve to be certified 26 times platinum?
While the industry works to come up with new methods for sharing and distributing music, it also needs to develop new ways to measure its successes. This news isn't the death of the industry, it's the changing of the guard. To some, it looks like music will never regain its former glory. But to those looking closely, music has never been more glorious. And you don't need a shiny record to prove it.