One U.S. State Locks Up More People Per Capita Than China and Russia Combined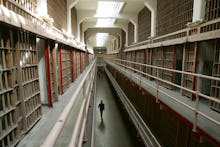 Mississippi. 
In 2013, the state had 686 inmates per 10,000 people. To put that in perspective, China's national incarceration rate is 121 inmates per 10,000 people, while Russia's is 475, according to a recent report and comparison by the International Center for Prison Studies. So yes, Mississippi has more prisoners per capita than China and Russia combined.
What's causing these sky-high rates? In Mississippi, it seems the problem isn't the crime itself, but the reasons people are being put behind bars and how long they're staying there.
For one thing, nearly three-fourths of those imprisoned in Mississippi are serving time for nonviolent crimes, according to the Clarion-Ledger.
But on top of that, Mississippi is one of 24 states to target repeat offenders with the Three Strikes legislation, which delivers mandatory maximum sentences for third felonies whether the crime is anything from murder or burglary to possession of an illegal drug. Those convicted are also ineligible for parole.
This was the case for Moses McLaurin, who was sentenced to 10 years in prison after he was caught with a small amount of cocaine, his third offense. Or there's also Atiba Parker, who was also imprisoned on drug-related charges when he was caught selling a small amount of cocaine. Parker, regarded as a habitual offender, is now seven years into his 42-year sentence but will never be considered for parole because of the Three Strikes law. 
According to the Brookings Institute's Hamilton Project, the incarceration rate in the U.S. experienced a spike as more states enacted this type of law.
In the U.S., the risk of imprisonment for certain demographic groups also reflects racial disparities and low educational attainment. Brookings tracked the growth of mass incarceration in America and identified the striking disparity, reporting, "There is nearly a 70% chance that an African American man without a high school diploma will be imprisoned by his mid-thirties."
Why it matters: Cvil liberties groups are advocating for punishments that should fit the crime because getting career criminals off the streets, they say, does not translate to good policy. 
"Individuals should not be executed for burglarizing a house nor incarcerated for life for committing relatively minor offenses, even when they commit several of them," the ACLU wrote in its "10 Reasons to Oppose 3 Strikes You're Out."
Adding fuel to the debate against the Three Strikes law, Mississippi's taxpayers spend more to maintain prisons — $389 million — than on education, disaster relief, drug enforcement, hospital schools, hospitals and the state's entire judicial system combined. The average person in the state's prisons has a sixth-grade education or less, the Clarion-Ledger reported, adding that the U.S. produces more prisoners than engineers, teachers and lawyers. 
Based on those numbers alone, it's clear the state — and, in many ways, the country — has the wrong priorities. Hopefully that can be fixed before these numbers become even worse.