10 Important Movies That Explore What It Really Means to Be 20-Something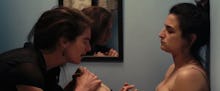 Everyone's 20s are a struggle. You've got the transition from the safety net of college into the free-for-all mess that is the adult world, the job search for a gig that's actually enjoyable while still paying the bills and the gradual goodbyes to loved ones who naturally phase out of your life. Being an aimless 20-something isn't a walk in the park.
Thankfully, art imitates life, and plenty of movies explore the reality of being a young person figuring things out. Here are just a couple of flicks that might make that search for answers a little more bearable. 
1. Adult World (2013)
Nothing says "young artist struggling in your 20s" more than working odd jobs to pay the bills while perfecting on your specialized craft. Adult World features Emma Roberts as Amy, a recent university grad who wants to become the next big poet. While trying to figure everything out, she find herself working at an adult bookstore and learning from one of her favorite writers (John Cusack). Even if you're sure of what you want, the movie reveals, it's easy to feel lost while waiting for your big break.
2. Reality Bites (1994)
Lelaina Pierce (Winona Ryder) is an aspiring filmmaker. Her documentary showcases her friends to examine post-education life and young people's quests to carve out their identities. Reality Bites focuses on archetypes of Generation X: Lelaina, the college valedictorian settling for lackluster jobs to make her life goals happen, budding musician Troy who can't seem to hold a job, closeted Sammy and promiscuous Vickie, who is confronting the possibility that she has contracted HIV. Highlighting one of Ryder's most memorable roles, the film was vital in revealing the choices young people starting in the '90s faced. 
3. Into the Wild (2007)
This movie is a bit more of a morbid hyperbole for what happens when you attempt to completely ditch the idea of an American Dream. Based off the real-life story of Christopher McCandless, the film follows his desire to figure himself out while wandering through the wilderness. Most aimless millennials won't find themselves roaming Alaska, but many will find themselves feeling compelled to reject conventional expectations.
4. Tiny Furniture (2010)
With its witty dialogue and shameless moments, Tiny Furniture is the Lena Dunham hit before Girls. The film paints a picture of post-grad family relations, as Aura (Dunham) constantly squabbles with her mother and finds herself in competition with her younger sister. But let's be real, one of the best parts of making random new friends in this aimless stage of life is being able to say, "I'm buddies with the guy from that one YouTube video."
5. Garden State (2004)
A cult classic, Garden State deals with topics that become all too real as a 20-something: the mortality of parents and mental health. Andrew Largeman (Zach Braff) returns to his New Jersey hometown for his mother's funeral and ends up revealing some of his real-life demons to newfound flame Sam (Natalie Portman). Garden State peels back the layers about life in your 20s, revealing that your body might be all grown up, but that doesn't mean your life is.
6. Post Grad (2009)
Post Grad is a light-hearted romcom starring Alexis Bledel as Ryden Malby, who's just trying to figure it all out after moving back into her childhood home. Her nemesis got the job she was vying for and her best friend's totally in love with her, so it's your pretty standard product of the genre. Some of its plot points definitely resonate with the disarray of your 20s, but for the most part it's an easy watch with good laughs. 
7. The Weekend (2011)
Dating tends to suck at this stage of life: Either people are already committed to partners or love interests are too preoccupied with career goals. The Weekend tells the love story of two aimless men who meet when the timing couldn't be worse. Russell and Glen hook up after a night at the club, but find themselves extremely connected after one weekend together. The kicker? Glen already has a one-way ticket to Oregon for the Monday after, and they're only left with how much the chance encounter meant to one another.
8. Obvious Child (2014)
Jenny Slate's Obvious Child takes a different approach to abortion. Instead of making the movie about whether or not her character Donna will go through with the procedure, the decision is about whether or not she will tell the very likable one night stand that is the father. The film's candidness regarding the hot-button issue is refreshing, and reveals what it's like to be a struggling 20-something going through a major experience while everything else seems to be falling apart as well. 
9. St. Elmo's Fire (1985)
St. Elmo's Fire stars Emilio Estevez, Rob Lowe and Demi Moore as a friend group who just graduated from Georgetown University and are transitioning into true adulthood. The iconic flick from the '80s was one of the first to explore the true meaning of living your 20s. It may lack some of the nuances that today's films feature, but it's a memorable Brat Pack pick and an important pioneer in discussing the transition out of college life.
10. The Lifeguard (2013)
Even as you reach the end of your 20s, you can still be completely lost. That's the situation journalist Leigh London (Kristen Bell) finds herself in after she leaves her job and returns home. While working at the community pool, an illicit romance sparks between her and teenager Jason, with unintentional and catastrophic consequences. The film goes to show that even when almost everything seems figured out by the cusp of your 30s, it's easy to suddenly feel lost in stability.
Being an aimless 20-something is difficult, there's no doubt about it. But as these films show, there's more than one way to be lost in this period of your life. From finding yourself working at a crappy job to stumbling into weekend flings to making hard decisions, the only thing certain about this stage in life is the uncertainty.