A Chilling Interactive Map Shows Every Death in Iraq During the Iraq War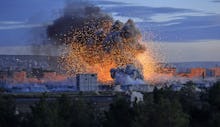 The news: In October 2010, WikiLeaks released a treasure trove of 391,832 classified military documents on the Iraq War. Included in those documents was data on just how many people had died in the country since 2003, as logged by analysts.
It was a huge mass of data, and now the Guardian has mapped WikiLeaks' data into an interactive Google Map, revealing just how huge the scope of the violence really was. 
By charting, according to their military heading and geographic location, nearly 60,000 incidents that killed over 100,000 people, it's clear that nearly every corner of Iraq paid a bloody price during the chaos that followed the Bush administration's invasion in 2003. 
The data: The full map is below, centered on Baghdad. But by zooming out, you can find details on every one of the 109,032 deaths logged by WikiLeaks across Iraq during the period of 2004-2009, broken down into category. Though 2006-2007 were by far the bloodiest years (together, the two-year period saw nearly 71,000 deaths), every year was exceptionally violent. 
Approximately 66,000 of the deaths were categorized as "civilian," and approximately 176,000 people were additionally wounded. Baghdad alone saw some 45,000 deaths, or approximately 0.97% of its prewar population of 4,689,000 in 2001. Most of the fatalities were from direct or indirect fire, improvised explosive devices, terrorist attacks or the vague category of "murder."
Killings are rampant across Baghdad, with nearly every neighborhood and major street having experienced shootings, bombings, urban warfare or politically motivated slayings. Even the Green Zone, the heavily fortified center of international presence in the district of Karkh, has seen spates of bombings and rocket attacks that have claimed many lives. Nowhere has been spared.
It gets worse: It's important to keep in mind that the 109,032 number represents just a slice of the deaths that occurred as the direct or indirect result of the Iraq War. The Iraq Body Count project has counted just short of 200,000 violent deaths since hostilities began, while another study by an international team of researchers published in PLOS Medicine estimated that as many as 405,000 people had died as of mid-2011. 
Of the deaths in the latter study, 60% were said to be violent, while 40% were victims of collapsed public services. Destroyed hospitals, rampant physical and mental illness, nonexistent emergency services and a devastated economy and infrastructure have taken almost as many lives as guns and bombs.
The bodies keep coming. Throughout 2013, nearly 10,000 people were killed by militant attacks across Iraq. The U.N. thinks that as many as 24,000 people have been killed or injured by Islamic State fighters in just the first 8 months of 2014, meaning Iraq's nightmare is not yet over, and, as scary as it might be, may not have an end in sight.