Fashion Icon Oscar de la Renta Has Died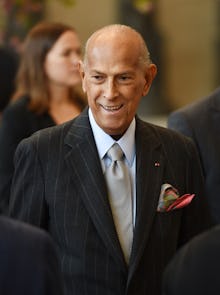 Legendary fashion designer Oscar de la Renta has died, a family member told ABC News. He was 82. 
De la Renta was diagnosed with cancer in 2006.
De la Renta rose to stardom in the fashion world during the early 1960s, when First Lady Jaqueline Kennedy frequently wore his designs. He launched his own influential fashion label in the mid-1960s.
Born n 1932, de la Renta left his home in the Dominican Republic at 18 to study painting abroad in Madrid. It was in Madrid that he he developed a love of fashion design and began an apprenticeship under designed Cristóbal Balenciaga, who became his mentor.
According to Variety, "among the actresses who appreciated his glamorous red carpet gowns were Cameron Diaz, Nicole Kidman, Oprah Winfrey, Kristen Stewart, Penelope Cruz and Jessica Chastain. One of his most recent commissions was Amal Clooney's wedding dress."
Editors Note: Mar. 2, 2015 
An earlier version of this article failed to cite a passage from Variety in accordance with Mic editorial standards. The article has been updated to properly attribute the language to Variety.