Here's What China's Air Pollution Looks Like From Space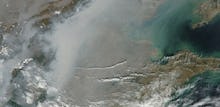 The news: They say that a little distance gives you some perspective. And in this case, it's a dark, concerning perspective indeed.
Earlier this month, NASA's Earth Observatory released the below photo, capturing a thick blanket of haze obscuring much of northern China. During that time, the depicted region experienced levels of smog that are 20 times higher than the World Health Organization's safety limit, forcing Beijing to raise its air pollution alert to the second-highest level.
Concentrations of fine PM2.5 particles reached alarming levels. These particles are especially dangerous, because they are small enough to be inhaled and get lodged in the lungs, causing and exacerbating respiratory problems.
"In Hebei, a province bordering Beijing to the north, concentrations of pollutant particles called PM2.5 reached upwards of 500 micrograms per cubic meter, according to Beijing's air quality index. The WHO's recommendation for maximum healthy exposure is 25 micrograms," Mashable wrote.
Why is this happening? According to the Earth Observatory, "Haze in this region tends to worsen in the fall and winter, when cold, heavy air traps pollutants near the surface. ... Since the cool air does not have the energy to rise through the warm air, vertical circulation slows and air becomes trapped near the surface. Any pollutant that enters the air gets trapped as well, and haze builds up over time."
Chinese officials have also explained that calm weather conditions have prevented pollutants from dispersing, and that the situation has been exacerbated by farmers in the Henan province burning their stalks after the autumn harvest.
This is not a new problem for China. The country has been plagued by increasing smog problems in recent years, and it doesn't just affect China, either. Recent studies have found that aerosol pollution in the region has ripple effects, causing irregular weather patterns across the globe.
And considering how Beijing still managed to host a marathon with smog at public-hazard levels, disturbing sights like this are slowly becoming the new normal.