Bryan Cranston Has a Hilarious Response to a Florida Mom Angry Over 'Breaking Bad' Toys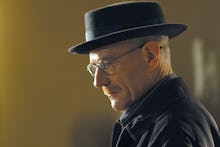 The news: While some people might not be too happy about the idea of a toy store selling Breaking Bad merchandise, Heisenberg himself has a message for those people: Get over it.
Last week, a Florida mom named Susan Schrivjer started a Change.org petition asking Toys R Us to stop selling its line of Breaking Bad collectibles. The action figures come with detachable guns and even bags of the show's signature blue meth, which might not seem like ideal toys for children.
"While the show may be compelling viewing for adults, its violent content and celebration of the drug trade make this collection unsuitable to be sold alongside Barbie dolls and Disney characters," Schrivjer wrote in the petition.
"Parents and grandparents around the world shop at Toys R Us, online and in stories [sic], with their children and should not be forced to explain why a certain toy comes with a bag of highly dangerous and illegal drugs or why someone who sells those drugs deserves to be made into an action figure," she added.
To which Breaking Bad star Bryan Cranston had this brilliant response:
But in all seriousness, there isn't much cause for concern here. While it might seem incongruous to sell collectibles from a violent adult drama at a children's toy store, Toys R Us has clarified that the action figures were never marketed toward children in the first place.
"The products you reference are carried in very limited quantities and the product packaging clearly notes that the items are intended for ages 15 and up. Items from this TV series are located in the adult action figure area of our stores," the company said in a statement to CNN.
There is plenty of merchandise for adult collectors sold at stores like Toys R Us. And if your kids recognize the Breaking Bad toys and ask for them, that probably says more about your household TV habits than about Toys R Us' ethical guidelines.