Shonda Rhimes Tears Apart Anti-Gay Haters of Her Shows With Three Perfect Tweets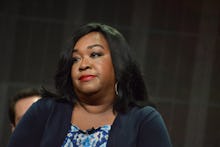 Shonda Rhimes fans have one more reason to love her. After an ignorant fan tweeted at the television genius complaining about the gay scenes in ABC's Scandal and How to Get Away with Murder, Rhimes responded back in the best way ever.
The Grey's Anatomy and Scandal creator (she's the executive producer of How to Get Away With Murder) has no problem fighting back against homophobia on Twitter. She received two awards from GLAAD in 2012 for her contributions to the community and has been very open about her motivation for writing these disenfranchised characters.
Rhimes didn't stop with just one tweet, though.
For those wanting to take a ride in Shondaland, they're going to have to leave their intolerant views at the gates. Because Rhimes will gladly have security escort the haters out if they're not having fun.
Everyone good? Great.
h/t Vulture