Disney Just Took a Huge Step Forward With Its Latest Princess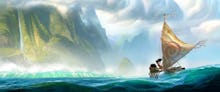 Move over, Elsa and Frozen, there's a new princess on the block. On Monday, Disney announced their next animated film: Moana. Slated for 2016, the movie tells the story of a teenage girl in search of a fabled island in the South Pacific, where the "born navigator" heroine will team up with a demigod to complete her aquatic mission.
The creative minds behind Moana are no strangers to princess tales. Directors Ron Clements and John Musker are the geniuses that brought us Aladdin, The Little Mermaid and The Princess and the Frog.
But the excitement over Moana becoming Disney's next It girl is twofold. Not only will she fit the new heroine archetypes that we've seen in recent films, but the Polynesian princess will also serve (at least partially) to remedy Disney's lack of diversity in its repertoire of white characters.
Based on the the details revealed so far, Moana won't be the kind of girl waiting for her knight in shining armor or one true love's kiss. Instead, she'll fit in along Brave's Merida, Tangled's Rapunzel and the Hawaiian Lilo's family from Lilo and Stitch, characters who have paved their own paths. Earlier Disney princesses depended on others to succeed — Cinderella had her Fairy Godmother, while Snow White had her dwarves. In more recent Disney films, the princesses have had abilities that made them autonomous — Elsa's ability to freeze things, or Merida's handiness with a bow and arrow. It's not totally clear what Moana's special qualities will be, but she's apparently a natural sailor with a strong connection to the sea.
Furthermore, the new princess will be expanding the idea of what a Disney princess looks like. Protagonists of color such as Pocahontas, Jasmine and Tiana are few and far between their white counterparts. Some critics argue that The Princess and the Frog did more work to enforce stereotypes than break them. Hopefully, Moana will be a responsible representation of Polynesian culture while also showing young girls who don't have the same skin color as Sleeping Beauty or Belle that they can still be princesses.
The announcement of Moana comes almost at the same time as the casting news that Jason Momoa will be playing the iconic Aquaman. Momoa, who is of Native Hawaiian descent, expressed his excitement about portraying the superhero and bringing his background to the part at a fan convention this past weekend:
"The greatest thing for me is that Polynesians, our gods, Kahoali, Maui, all these water gods, so it's really cool and a honor to be playing a [water] character ... And there's not too many brown superheroes, so I'm really looking forward to representing the Polynesians, the natives."
It'll be a while until Moana comes out. But a heroic Disney princess of color is a move that hopefully means more diverse characters to come. We'll be waiting to see what else Disney has in store. 
h/t The Daily Dot