North Carolina Democrats Made a Huge Mistake With This Political Flier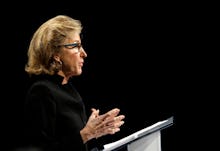 The news: Sen. Kay Hagan (D-N.C.) is running for re-election in a close race, but a recent pro-Hagan flier that surfaced could sink her campaign. 
Here's a bigger version:
While sensationalized text is to be expected in politics, the lynching imagery isn't even close to acceptable.
Are people mad? Hagan's campaign was quick to distance itself from the flier, which states it was paid for by a group called Concerned Citizens of Cumberland County and wasn't endorsed by a candidate. 
"I don't know anything about the group or flier," a Hagan spokesman told the Fayetteville Observer. 
Surprisingly, some locals weren't as put off by the flier as you might expect. 
"That's what the community feels," Jimmy Buxton, president of the Fayetteville NAACP, told the newspaper. "That if the Senate is taken over by Republicans, and it remains the Republicans in the House of Representatives, they're going to impeach him."
Others didn't share this view. Terrie Robertson, director of the Cumberland County Board of Elections, said the flier was "tantamount to voter intimidation." Another woman told a local ABC affiliate that the flier reminded her of "hate mongering, intimidation [and] voter suppression."
Looking forward: Will this cost Hagan the election? Probably not. Hagan is ahead by in a hotly contested Senate race that could be the most expensive in American history.
Perhaps the only certainty is that race is still a pervasive issue in the United States, and politicians are always looking to exploit it.
h/t Daily Caller
This post has been updated.