Heartbreaking Photos of Kids Capture an Important Issue the Media Rarely Talks About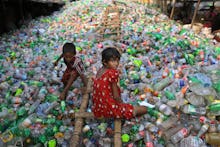 When the Norwegian Nobel Committee awarded Malala Yousafzai and Kailash Satyarthi the 2014 Nobel Peace Prize, it was a chance for the world to focus on a pressing issue that rarely makes headlines: the plight of child laborers around the world. 
Yousafzai, 17, and Satyarthi, 60, were awarded the prize for "their struggle against the oppression of children and young people, and for the right of all children to education," the Norwegian Nobel Committee said. The award offered an opportunity to discuss the complex economic and social implications surrounding child labor, an issue too often ignored in countries where corruption and poverty permeate daily life or overlooked by media organizations that chase "sexier" global crises, like climate change, terrorism and AIDS.
There are an estimated 168 million child laborers around the world, according to a new study by the United Nations' International Labor Organization (ILO). This means that 1 in 10 children worldwide are exploited for labor, despite the UN convention setting 14 as the minimum age for youth laborers. 
Child labor isn't a vicious form of exploitation undertaken by callous families and companies. For the majority of families, the study notes, sending children to work helps the household stay financially afloat. At its core, child labor is a symptom of poverty: Pursuing an education take a backseat to earning a wage. According to a Journal of Economic Perspectives study, "low income and poor institutions are driving forces behind the prevalence of child labor worldwide."
In Burkina Faso, one of the poorest countries in the world, child labor is endemic to the production of its chief export crop, cotton. Companies like Victoria's Secret, one of the United States' largest retailers of lingerie, depended on a supply of cotton from the country. In 2011, Bloomberg News found that the company was saving money in its supply chain from the exploitation of child laborers.
One of the child laborers was Clarisse Kambire, 13. According to the ILO, a person between the ages of 5 and 14 is a child and deemed "economically active" if they work for wages.
Either by choice or unwillingly, many seek wages in cities where there are booming industries, such as the coal-rich mines of Meghalaya in northeast India. The image below by Getty Images photographer Daniel Berehulak captured one of the 70,000 children employed in the mines, many of whom were illegally trafficked from their home country of Nepal or Bangladesh. 
In 2011, Berehulak reported that the lure of the mines was stronger than that of the classroom.
"Children and adults squeeze into rat hole like tunnels in thousands of privately owned and unregulated mines, extracting coal with their hands or primitive tools and no safety equipment. Workers can earn as much as $150, significantly higher than the national average of $15 per day. After traversing treacherous mountain roads, the coal is delivered to neighboring Bangladesh and to Assam from where it is distributed all over India, to be used primarily for power generation and as a source of fuel in cement plants."
Every year on June 12, the ILO attempts to bring attention to the plight of child laborers worldwide with World Day Against Child Labor. The powerful photographs below prove this issue requires more than one day of attention each year.
What are the solutions? International agencies like the ILO have an important role to play when it comes to regulating child labor. Though the agency can only create standards, it can put international pressure on both companies and countries that benefit from child labor. 
One successful example is Mexico's Prospera program, previously called Oportunidades. The government-backed cash-transfer program gives mothers as much for keeping her children in the ninth grade as two-thirds the amount they would earn in the labor force. Oportunidades, which began in 1997, has reduced the rate of child labor in Mexico by as much as a quarter. 
Incentivizing education at a national scale, as Yousafzai and Satyarthi call for in their activism, is the next step to fighting poverty and child labor around the globe.
h/t Bloomberg News