13 Albums That the Most Successful Musicians Listen To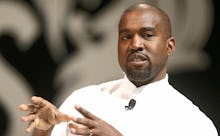 A musician is no greater than the sum of their influences. Though the most famous artists seem unapproachably original, everyone has to start somewhere. And every great artist is equal parts a great fan. 
If you want to know what really makes an artist's music great, look no further than those who inspired them. Here are 13 incredible albums that the most successful musicians love.
1. Kanye West loves Roseland NYC Live by Portishead.
The experimental English group Portishead is often credited as being the first great band in trip-hop, a brooding, electronic, percussive genre that hit its peak in the '90s. Kanye West told Rolling Stone that the 1998 live album, and specifically its use of strings, was a huge influence on his Late Registration album, and presumably also on the subsequent live record, Late Orchestration.
2. Meghan Trainor loves the Tarzan soundtrack.
Phil Collins' soundtrack for the classic Disney flick Tarzan is one of the most successful soundtrack albums of all time, having sold over 2.5 million copies since its 1999 release. One of those discs found its way into the hands of "All About That Bass" singer Meghan Trainor, and her life hasn't been the same since. "That was in my car for school, our car as a family, for two years. We never got sick of that," she told Idolator. "Phil Collins taught me harmony, and he taught me rhythm and all that fun stuff."
3. Jay Z loves Off The Wall by Michael Jackson.
The King of Pop's fifth album is a bona fide classic, featuring hits like "Don't Stop 'Til You Get Enough" and "Rock With You." It's not as monolithic as some of Michael Jackson's other albums, like Thriller and Bad, but it does have universal appeal, as Jay Z told Rhapsody: "Off The Wall is one of those albums that was timeless, that didn't have a genre. It was colorless, it was ageless."
4. Iggy Azalea loves Later That Day by Lyrics Born.
On his debut album, Japanese-American rapper Lyrics Born's flow is reminiscent of a slightly more energized Snoop Dogg. Australian rapper Iggy Azalea, whose Southern-influenced style also makes her sound like she is from somewhere else, told Complex that Later That Day is one of her favorite albums, calling it "very soulful and electric" and "still so underrated."
5. Lady Gaga loves Signed, Sealed & Delivered by Stevie Wonder.
The soul legend's 1970 album Signed, Sealed & Delivered arrived a few years before Stevie Wonder really hit it big: Between 1972 and 1985, he released eight top 5 albums. But its title track would go on to become one of the best-known songs in the singer's illustrious catalog. Lady Gaga credits this album, along with a variety of others, with shaping her idiosyncratic style: "Don't spoon-feed me The Beatles and Stevie Wonder and Bruce Springsteen and Pink Floyd and Led Zeppelin and Elton John and expect for me not to turn out this way," she told MTV.
6. Daft Punk loves Screamadelica by Primal Scream.
The third album from the Scottish alternative rock group Primal Scream took the U.K. by storm upon its release in 1991, receiving critical praise for incorporating influences including house music, psychedelic rock and just about everything else. Daft Punk has also drawn inspiration from a variety of sources, whether it's disco or rock or funk, and Guy-Manuel de Homem-Christo cited Screamadelica as a "pivotal" record of his and bandmate Thomas Bangalter's teenage years.
7. James Murphy loves Mesh & Lace by Modern English.
Modern English is best known for the sunny new-wave hit "I Melt With You," but its 1982 debut record is more along the lines of Joy Division's darkest output. LCD Soundsystem front man James Murphy, known for having eclectic tastes, referred to closing track "Dance of Devotion" as "possibly one of the best and most underrated screaming British punk/new wave songs" and said of the album, "That record is a sneaky secret that everyone writes off, because they just think it's going to be a 'Melt With You,' but it sounds way scarier than any Joy Division record."
8. Justin Vernon loves Birds by Collections of Colonies of Bees.
The experimental post-rock group Collections of Colonies of Bees has worked in noise music, but it has also tackled more straightforward genres, as it did in Birds, which incorporates math rock influences. The Bon Iver front man Justin Vernon told Pitchfork that the "really, really brilliant" album is "super smart and textural and manipulated but it's got this soul in it." He admires the group so much that he recruited its members to form side project Volcano Choir with him, which has released two albums since 2009.
9. St. Vincent loves Another Thought by Arthur Russell.
Arthur Russell's Another Thought is a compilation of some of Russell's final recordings, which are primarily cello and vocal compositions. Although it's not necessarily an accessible listen, Anne Clark wrote for Pitchfork that, "If you don't have it you should run to the record store and buy it. It's the best thing."
10. Jeff Tweedy loves Bad Timing by Jim O'Rourke.
Jim O'Rourke has dabbled in electronic music, post-rock and just about everything in between. Considering his body of work, Bad Timing is relatively reeled in. It consists of four pensive 9- to 13-minute compositions centered on acoustic guitar. Jeff Tweedy, of Wilco and Tweedy, loved the album so much he later recruited O'Rourke to serve as a Wilco producer. "It ended up blowing my mind more than just about any record I'd heard in the last five years," Tweedy told the Chicago Tribune. "The patience of the arrangements really appealed to me, the idea that it's not about how fast you get from Point A to Point B, but savoring every second of the journey."
11. Ryan Adams loves Is This It by The Strokes.
The Strokes' debut record quickly established the group as legends in certain circles, who have praised the album for a sound both straightforward and fresh. Musical journeyman Ryan Adams loved the album so much that he recorded a tongue-in-cheek blues version of it on an 8-track recorder. Only his backing band, The Cardinals, have heard the recordings. They thought they were funny, but with Adams' skill, there's no way it's not at least kind of good.
12. Kurt Vile loves Days Have Gone By by John Fahey.
American primitivism is an acoustic guitar genre informed by classical and avant-garde music, and John Fahey is one of the genre's legends. Kurt Vile cited the album Days Have Gone By as an important one for him in his 20s and described his admiration for Fahey's technique for Pitchfork: "He just takes his time. It almost sounds like chords to a church organ, but it's just way better because it's from his guitar and you just know he means every note."
13. Aphex Twin loves Selected Ambient Works 85–92 by Aphex Twin.
The electronic musician Richard D. James is, along with Brian Eno, arguably the most influential figure in modern electronic music, and his debut album is considered a classic of the genre. Better known as Aphex Twin, he has built a substantial fan base, but his most loyal follower might be himself: He has been quoted as saying, "It sounds really arrogant, but my music's my favorite music ever. I prefer it to anyone else's." At least confidence isn't an issue for Aphex Twin.