A Poignant Art Project Is Revealing the Hidden Meanings Behind Strangers' Tattoos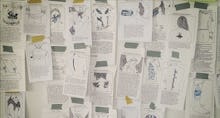 Illustrator Wendy MacNaughton and writer Isaac Fitzgerald want to know what your tattoo means.
Long stigmatized for their historical associations with inmates and sailors, tattoos have experienced a resurgence of late. An NBC poll conducted this spring showed that 40% of American households have at least one person with ink in them. Pew Research Center reports that at least 45 million Americans, roughly 23% of the population, have a tattoo, and $1.65 billion is spent annually getting them. 
So many tattoos logically translates into a lot of different descriptions. And it is these backstories — snapshots of a memorable experience, an important person or maybe just a beautiful dream — that make up the basis of the pair's new volume, Pen & Ink. 
"Tattoos are a huge part of American culture, as well as numerous cultures throughout history. That isn't ever going to change," Fitzgerald told Mic.
Tattoos are enchanting; they render the body as art. Fitzgerald has been sharing these mini-artworks, first on Tumblr and now in book form created alongside his co-author and illustrator, whom he first met in a San Francisco bar. MacNaughton, Fitzgerald said, is "an incredible artist who told stories through her illustrations in a way [he] had never seen before": "Once, while she and I were sharing a drink, I talked about wanting to help people tell their tattoo stories, with illustrations of the art they wore instead of photographs. I thought it was a dumb idea, but Wendy convinced me that it wasn't (God bless her), and Pen & Ink was born."
Soliciting friends, neighbors, colleagues and strangers, Fitzgerald edited the backstories, and then MacNaughton interpreted the artwork through her distinctive pen-and-ink drawings. Think ink on ink. "Tattoos are art. Photos of tattoos are art. Illustrations of tattoos are also art," Fitzgerald explained. "Art representing art: That's the heart of this book. The way Wendy illustrated these tattoos allows the body to be the backdrop, not the focal point, truly allowing the tattoo (and the story behind it) to stand on its own." 
The descriptions vary in length and poeticism. Some reflect the drunken anecdotes of old friends, like Fitzgerald's own tattoo below. Others are intensely personal, like Cassy Fritzen's recollection on the death of her fiancé.
Of course, it's become impossible to guess who has a tattoo, anymore.
If this book is any indication, literary types and those of us who think about the dynamic between word and image seem to be one community in particular that truly delights in the artwork. Quite a few of the stories in Pen & Ink were submitted by writers themselves, including "bad feminist" Roxane Gay, author Tao Lin and LGBT activist and poet Saeed Jones.
Celebrities like Lena Dunham and Lori Petty clearly wanted in on the fun as well:
"Every story," Fitzgerald told Mic, "is unique and powerful, whether in the way it pulls at your heartstrings or in the way it makes you bust a rib laughing." A common thread running through the stories is the connection between humanity and humor. "We're all human, and we all have moments of incredible strength and fortitude, as well and inconsolable sadness," he said. "In between, there's a lot of humor. The common element is life."
Take queer porn star Jiz Lee's simple yet elegant stripe down the back of their spine. "The line symbolizes 'balance,'" they write. Life is "about finding balance," they observe, "and the simple act of walking is about up-righting a succession of fails."
While tattoos are increasingly prevalent in American culture, Fitzgerald acknowledges that they aren't for everyone. "Tattoos are for people who choose to have them. It's an art form, and like all art, it's never going to be appreciated by everyone. In the great words of Wayne Campbell: 'Led Zeppelin didn't write tunes everybody liked. They left that to the Bee Gees.'" 
Still, it seems unlikely they will be falling out of favor soon, "as long as humans have skin and ink." This is why he and MacNaughton are at work on a sequel, titled Knives & Ink, about the "most heartbreaking, hilarious, and inspiring chef/food tattoo stories from the back of the house and beyond." Are you a badass chef with a sleeve or two? Want to be a part of this new venture? Email knivesandink@gmail.com.