13 Legendary Musical Projects That Never Saw the Light Of Day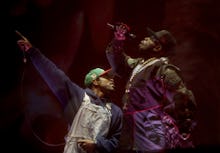 This year's list of artists who promised us new music and then broke those promises is pretty long. Unless they pull some serious Beyoncé-level surprises, we won't be getting the music Adele, Frank Ocean, Maxwell, D'Angelo or Jay Electronica promised us for 2014.
This is often what happens to the boldest musical projects. Creative differences, label intervention, scheduling problems, legal troubles, disinterest or even death get in the way of the great albums, the ones we never hear. And that isn't unique to 2014. Over the years we've seen some truly legendary musical ideas fall by the wayside or get corrupted until they're beyond unrecognizable. 
Luckily, there are people on the Internet taking care of that. The blog Albums That Never Were goes to great lengths to actually assemble some of these classic, forgotten projects. They researched proposed tracklists, dug up unreleased material and re-mixed it to sound as it would have been originally intended. 
This is a list, then, of dream albums that almost were — some sourced from ATNW and others simply from music lore.
1. R.I.P. by The Zombies
The Zombies are '60s psychedelic rock's Vincent van Gogh. They released one of the most progressive and cohesive visions of what psychedelic pop rock should sound like with the hauntingly beautiful Oddesey & Oracle, but it was ignored until well after the band had broken up. When "Time of the Season"  became a hit on the radio almost out of nowhere, keyboardist Rod Argent and bassist Chris White scrambled to reform The Zombies to capitalize on their newfound buzz. They dug up all the old recordings and mixed them with some new material to create R.I.P. 
Unfortunately, just like Odessey & Oracle, the singles, such as the above "Imagine the Swan," were still too far out for general audiences. They flopped and the album was scrapped.
The Zombies' music is now considered a cornerstone of '60s psychedelia, but while in the midst of it, they were simply too far ahead of their time. Hear what that album might have sounded at Albums That Never Were.
2. Untitled by Jimi Hendrix and Miles Davis
When Davis heard Hendrix's music in 1968, he revolutionized his whole style. The jazz legend started dressing in scarves and writing music with a more raw, electric sound. The two met, and after jamming together a few times they recorded a collaborative album. Davis was actually waiting for Hendrix to meet him in the studio when he received news that Hendrix had been found dead the night before in a hotel room in London. 
"What I didn't understand is why nobody told him not to mix alcohol and sleeping pills," Davis wrote in Miles: The Autobiography. "That shit is deadly and had already killed Dorothy Dandridge, Marilyn Monroe, my good friend Dorothy Kilgallen and Tommy Dorsey. Jimi's death upset me because he was so young and had so much ahead of him." 
The Davis/Hendrix collaboration is far from the only promising creative project that drugs have destroyed over the years, but it definitely is the most epic. Davis has claimed recordings of their jams exist somewhere deep in the Columbia Records' vaults. With the release of Hendrix's biopic on the horizon, the time to release those sessions might be now.
3. He Raps, He Sings by T-Pain and Lil Wayne as T-Wayne
In 2008, T-Pain and Lil Wayne were on top of the world. They had such a huge hit with "Got Money" that they planned to turn it out a much bigger success — an album. 
The Internet buzzed for months, but nothing surfaced. Then, Lil Wayne got arrested for criminal possession, leaving T-Pain high and dry without a partner or a label to support him (he was in the midst of talks to transition onto Young Money). 
"I started really f*ckin drinking too much because I was depressed and I was like, 'F*ck, Wayne in jail.' It started getting real crazy for me," T-Pain said in an interview earlier this year. Once Wayne was out, he was too busy, and Pain remained too down to get the album going again. Guns, drugs and music don't mix.
4. James River by D'Angelo
After releasing the sultry and mystic Voodoo in 2000 to overwhelming critical acclaim, D'Angelo seemed poised to become the next Marvin Gaye. He had mobs of female fans that worshipped his body and voice, and he was selling out arenas all over the world. 
Right at this peak, D'Angelo's struggled with drugs, the law and some debilitating body image issues caught up to him and forced him to retreat from the industry. He emerged from hiding around 2009, teasing that he had been working on a new album entitled James River that was almost finished. Four years, later Questlove again confirmed the album was almost done, though it had been slow and painstaking. 
"He's the only person that I'll actually go to the studio with and stay there to six in the morning, re-doing these drum parts," he said, "Right now, we're just tightening up the loose ends. But I still stand by, 99% of it is done." 
We're still waiting.
5. Smile by The Beach Boys
Intended as a "teenage hymn to God," Brian Wilson and The Beach Boys reached for the heavens with Smile — and got badly burned. The band spent months writing, rewriting, condensing hours of material into tiny musical vignettes and tone poems, trying to record the perfect album. They released  "Good Vibrations" and "Heroes and Villains." The first was a major success, but the second was completely ignored, which proved to be a huge blow to Wilson's fragile psyche. He had been firmly convinced that song would finally get him levels of label funding and respect to put him on par with The Beatles' creative genius. Its failure drove him deeper into drugs, and he gradually became a reclusive and paranoid wreck for a long time. 
Wilson later released a reimagined form of the album with Brian Wilson Presents Smile in 2011, though he admitted it was markedly different than the epic he originally conceived in the '60s. You can check something closer to the original at Albums That Never Were.
6. Lifehouse by The Who
After the success of their first concept album, The Who Sell Out, and the world's first rock opera, Tommy, The Who tried to go even bigger on their next album. They shot for another concept album that would be even more ambitious in scope than either of their previous two. It would include a film tie-in and leave open portions for live audience participation to drive the music's intended plot. 
Lifehouse featured several intertwining storylines that sought to tell a sprawling story without explanatory interludes or amusical narrative features. Unfortunately, the album was so complex and convoluted that Pete Townshend's bandmates could barely comprehend it. The project was eventually scrapped, and the best of the surviving songs found their way onto the next Who album, Who's Next, in 1971.
Check what the Lifehouse epic might have sounded like.
7. Swift and Changeable by MF Doom and Ghostface Killah
Wu-Tang's Ghostface Killah and odd ball, alternative rapper MF Doom have excellent chemistry. MF Doom produced large portions of Ghostface's Fishscale album, one of his most critically acclaimed. It was so well received that Def Jam ordered a follow-up with even more Doom involvement, resulting in More Fish, also a critical darling. Afterward, the two masked MCs started to talk a full-on collaborative album, but years passed and nothing came to fruition. 
The track "Angelz" off Doom's Born This Way and this fan-assembled mixtape are a glimpse of what glory they could have created.
8. Thelma and Louise by Lil Kim and Foxy Brown
Lil Kim and Foxy Brown came the closest to actualizing a project, tentatively titled Thelma and Louise, before egos got in the way and a huge game of "he said, she said" led to the deterioration of their relationship. 
People are still thinking about the project, though. Last year Foxy Brown's one-time manager posted a photo of him and Lil Kim together with the caption "Thelma and Louise!!! Kim and foxy album!!! Thoughts?"
9. Celebration of the Lizard by The Doors
The Doors faced a serious case of writer's block while trying to record their third LP. They originally wanted to release an album based around a long Jim Morrison poem entitled "Celebration of the Lizard." It would take up an entire side of the record, recited over some heady noise experiments, reports Albums That Never Were.
The band's producer felt it was too abstract and that the focus should be on coming up with a hit single. He eventually convinced the band to scrap the project. Morrison couldn't take the idea that his epic poem had been scrapped in exchange for a "hit single," and he spiraled into a reckless drug binge he never really got out of. The new project became Waiting for the Sun, their band's most successful and highest charting album.
10. Chairmen of the Boards by Dr. Dre and Timbaland
In 2001, two of the world's most celebrated beatmakers, Dr. Dre and Timbaland, announced their intentions to collaborate on a joint album, titled in an appropriately bossed up fashion, Chairmen of the Boards. The project would bring together artists from Dre's Aftermath, such as Busta Rhymes, Eminem, Eve and an artist from Timbaland's Beat Club label — presumably Missy Elliot, Bubba Sparxxx and Aaliyah. 
But after three years of silence and no progress, the project was officially scrapped so Dr. Dre could focus on Detox. And we all know how that turned out.
11. Mos Def and Talib Kweli's second Black Star album
Released shortly after the deaths of Biggie and 2Pac, the first Black Star album essentially birthed conscious hip-hop. It was a plea for peace in the hip-hop community and a suggestion that artists refocus their attention on the music, and it left a lasting impact. About three years ago whispers the group would be reforming for another Black Star album lit up Internet. "Fix Up," a single made up of Aretha Franklin samples, reframed the rumors that the album would be a Franklin-inspired mixtape. Nothing came of this either, though both say they're still down to make a new one once their schedules linked back up. 
Whether their schedules align, we need a new Black Star album now more than ever. Violence continues to tear through neighborhoods in Southside Chicago, fueled in part by the violent music of artists like Chief Keef and Lil Reese. Hip-hop needs more conscious rappers.
12. We're Only In It For The Money [Uncensored] by Frank Zappa
The album we all know as Zappa's We're Only In It For the Money is significantly different than the album  Zappa wrote and recorded in 1968. After Zappa turned in the album to his label, MGM executives went back through it without his permission and edited out all the lyrics they found offensive or too controversial. When Zappa won an Edison, the Dutch version of a Grammy, for the album he told the awards people, "I prefer that the award be presented to the guy who modified this record, because what you're hearing is more reflective of his work than mine."
No version of the fully uncensored album Zappa imagined is anywhere in circulation — the closest thing we have is the partially reconstructed version that appears on Albums That Never Were.
13. 10 The Hard Way by Outkast
When Outkast made their triumphant return to the stage for a 40-festival tour this summer, every hip-hop lover waited with bated breath to see if they would also announce the coming of the ill-fated 10 The Hard Way. The duo planned to have the album be produced entirely by Organized Noize, the producers responsibly for Outkast's first classic album, Southernplayalisticadillacmuzik, and their later smash "So Fresh, So Clean." However, the group broke up before they put any serious effort into the album, and they have no plans to get back into the studio anytime soon. 
"I remember, at like 25, saying, 'I don't want to be a 40-year-old rapper,'" Andre 3000 told the New York Times recently. "I'm 39 now, and I'm still standing by that. I'm such a fan that I don't want to infiltrate it with old blood." 
New Big Boi albums, though? We'll get a ton more of those. He can't be stopped and is still killing it.