12 Legendary English Songs That Are Even More Beautiful in Other Languages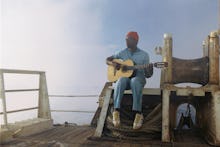 For decades, the global music scene has been dominated by English. Foreign bands usually have to cast aside their native tongue to score success in the biggest markets (see: Phoenix). A glance at Billboard's current top 10 reveals just one non-native English-speaker (Tove Lo), whose song, unsurprisingly, is sung entirely in English. The next bilingual performer down is Enrique Iglesias (No. 24), who's been releasing music for nearly 20 years, mostly in English.
That's why foreign megastars like Stromae can be totally unknown in the U.S. But it works both ways, and songs sung in English often find their most creative interpretations in foreign tongues. American and English tracks are making it to all corners of the world. Sometime they flourish more elsewhere than they do here. Sometimes they get covered. Oftentimes, those covers are as good as or better than the original penned in English, and always they remind us that the world is much bigger than English-speaking pop tastes might imply. 
1. Seu Jorge's "Life on Mars" (Portuguese, David Bowie)
This track, by Brazilian singer Seu Jorge, is off an entire album of Bowie songs he covered for The Life Aquatic with Steve Zissou, and aside from its melody, the rendition is distinctively anti-Bowie. Where Bowie cries, Jorge moans; what Bowie does with an orchestra, Jorge does with a nylon-string acoustic guitar. Still, his melody is just as maddeningly catchy as the original, to the degree that Bowie himself has said Jorge imbued it with a new level of beauty.
2. Caterina Caselli's "Tutto Nero" (Italian, "Paint it Black," The Rolling Stones)
One can only learn so much from this clip without knowing Italian (or the film). The singer is triple-threat record producer/singer/actress Caterina Caselli, and the clip is from the 1966 Italian film Perdono. Past that, it's guesswork, but there's something hypnotic about Caselli's harmonic-minor coo replacing Jagger's bark.
3. Gipsy Kings' "Hotel California" (Spanish, The Eagles)
It takes all of one minute for this song to kick in and prove that Don Henley's version was meant to be played 60 beats per minute faster and sung in Spanish. Another upside to the speed: It cuts Don Felder's two-minute guitar solo in half. Try sitting still through this cover. Just try.
4. Annie Philippe "Baby Love" (French, The Supremes)
This is French pop star Annie Philippe covering the Supremes. There's even a compilation disc of 'Swinging Mademoiselles' doing covers of American songs. Prepare to go down the Franco-pop rabbit hole.
5. Rodrigo y Gabriela's "Stairway to Heaven" (Flamenco guitar, Led Zeppelin)
This cover doesn't technically count as foreign-language — after all, it has no words — but Mexican duo Rodrigo y Gabriela take "Stairway to Heaven" somewhere new with a ripping Flamenco version. Sometimes words have two meanings.
6. Mei Finegold's "Hallelujah" (Hebrew, Leonard Cohen)
There are about 4,538,952 covers of "Hallelujah" in the world — so many that Leonard Cohen has called for a moratorium — and this one by Mei Finegold in Kokhav Nolad is neither the best nor the least precious (nobody will ever top Jeff Buckley's iconic cover). But the fact that this song made it all the way to a Hebrew translation is a testament to the raw power of the song. The language also fits the song's (plentiful) Homeric moments. (Side note: She won third place for this.)
7. Seu Jorge's "Changes" (Portuguese, David Bowie) 
Jorge's David Bowie covers are so beautiful that they merit additional coverage. This version of Bowie's smash hit "Changes" reduces the pounding piano and galactic saxophone to the song's beautiful core.
8. Ednita Nazario's "Un Hombre Para Mi" (Spanish, "Somebody to Love," Queen)
She is Ednita Nazario, she is from Puerto Rico and she can do something almost no one else can: cover Freddie and do him justice.
9. Adriano Celentano's "Preguero" (Italian, "Stand By Me," Ben E. King)
Like Philippe's Supremes cover, this Italian "Stand by Me" surfaced the year after Ben E. King's original. Unlike Philippe's Supremes cover, Adriano Celentano's native tongue gives the track operatic severity. 
10. Shang Shang Typhoon's "Let It Be" (Japanese, The Beatles)
Few things are as simultaneously inspirational and confusing as a reggae-tinged cover of "Let It Be" sung entirely in Japanese. Enjoy.
11. Rachid Taha's "Rock El Casbah" (Arabic, "Rock the Casbah," The Clash)
The legend goes that Algerian singer Rachid Taha met the Clash in Paris in 1981 gave them a copy of his raï-punk tape and months later heard his song, "Rock the Casbah," on the radio. His solution? Steal the song right back from them.
12. Los Locos del Ritmo's "Hey Joe" (Spanish, Unknown Artist)
This track is best known as the blues opus Hendrix morphed it into, but the actual author is unknown. It's impossible to know how far Los Locos' version is from the original, but going off Jimi Hendrix's, nearly every facet has changed: tempo, key, instrumentation and, of course, language. What remains is pure energy.