If You Looked at Renee Zellweger's Plastic Surgery, You Need to See These Photos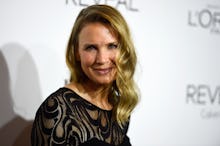 The news: Actress Renée Zellweger attended the Elle Women in Hollywood Awards on Monday and found herself suddenly thrust into a media frenzy: Her noticeably different appearance attracted mockery from outlets such as CNN and the Atlantic and spawned countless think pieces, from stigmatization of plastic surgery and pressures of Hollywood celebrity to impossible beauty standards for women.
But the woman at the center of this ridiculous firestorm is taking the high road and ignoring those "who come digging around for some nefarious truth which doesn't exist [and who] won't get off my porch until I answer the door."
"I'm glad folks think I look different! I'm living a different, happy, more fulfilling life, and I'm thrilled that perhaps it shows," Zellweger told People on Tuesday. "Perhaps I look different. Who doesn't as they get older?! Ha. But I am different. I'm happy."
And now that Zellweger has dispensed with her haters, let's move on to more important stories from around the world that deserve your attention:
1. Kurdish fighters battle Islamic State in Kobani, Syria.
Weeks of fighting have destroyed the border town of Kobani between Syria and Turkey, forcing hundreds of thousands of people to flee. The U.S. has helped the Kurdish fighters repel ISIS by conducting airstrikes and air-dropping weapons and aid, but the devastating siege continues.
2. Speaking of which, this could be embarrassing.
On Tuesday, ISIS also claimed that it intercepted one of these U.S. airdrops, filled with grenades. That's the problem with airdrops: You might end up aiding the people you're fighting.
3. The cleanest, most respectful democracy movement has entered week four.
The Hong Kong pro-democracy protests have been a true standout, with demonstrators organizing recycling collections and even shielding riot police officers from the rain. On Tuesday, student leaders met with representatives from the Chinese government and even participated in a televised debate with Hong Kong officials, although these talks achieved very little.
4. NASA releases the first-ever image of a comet speeding past Mars.
Scientists believe that the comet originated from the faraway Oort cloud billions of years ago. If so, "it is essentially a flying frozen time capsule from the solar system's earliest days, formed of gas, water and dust not incorporated into Earth, Mars or the other planets," the Los Angeles Times said.
5. The hunt for a possible submarine in the Baltic Sea continues.
What began as a maritime mystery has evolved into international, sociopolitical intrigue with shades of Cold War drama. The Swedish government announced Monday that it will step up efforts to discover the possible rogue submarine wandering around its waters — "with armed force, if necessary."
6. The end of the "Blade Runner" trial.
Famed Olympian Oscar Pistorius was sentenced to five years in prison for culpable homicide in the shooting death of his girlfriend, Reeva Steenkamp. He is expected to spend around 10 months in prison, and serve the rest of his sentence under house arrest.
7. Ebola is still rapidly spreading across West Africa, but there is hope.
According to the latest estimates, western Sierra Leone alone is seeing more than 20 Ebola deaths a day. On the bright side, the World Health Organization announced that a serum to treat patients, developed from the blood of Ebola survivors, can be made available in Liberia in a matter of weeks.
8. The situation in Ukraine remains fraught.
Cease-fire talks failed yet again this week in Ukraine, while the separatist stronghold of Donetsk remains under constant shelling and bombardment. The impasse is becoming increasingly dangerous, with Human Rights Watch accusing the Ukrainian government of dropping cluster bombs in civilian areas.