The Vatican Library's Amazing Documents Are Finally Online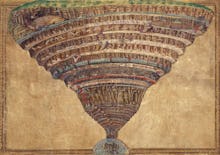 The news: The Vatican Library is getting an e-upgrade. 
The official library of the Holy See is undertaking a massive digitization project designed to upload hundred of thousands of books and images from its physical archives into an online database.
As Business Insider reports, nonprofit organization Digita Vaticana Onlus was founded in 2013 with the goal digitizing 80,000 manuscripts. That's just a little over half the approximately 180,000 manuscripts, 1.6 million books and 150,000 images that are housed in the library.
The process, as laid out by the project's website, is pretty basic. First, the manuscripts are selected and scanned by special devices designed to preserve the integrity of the original documents. Images are then saved in multiple locations to ensure long-term storage before being made available in the Vatican Library portal. Sounds simple — but imagine doing that for thousands of pages.
Check out some of the collections:
Codex Borgianus dates back to the end of the 15th century. It's printed on deerskin and probably had ritual purposes. It's made up of all pictograms that feature mythological beings and gods.   
This version of the Iliad entered the Vatican Library in 1613. Homer's story of the Trojan War is told in two languages, Greek and Latin.
This collection of 11 watercolor paintings depicts Japanese women dancing the traditional Nihon Buyo. The dance represents stories about nature and everyday life, with the fan working as an extension of the body.
Dating between 1451 and 1475, the Hebrew manuscript of the Mishneh Torah of Maimonides features intricate illustrations at the beginning of each chapter. 
They're just getting started. The project still needs funding help to complete their goal. Sponsor packages starting at $4,300 will buy donors tours and copies of edited publications. The digitization effort is expected to take about 15 years.
Until then, you can take a virtual tour of what has been uploaded here. 
Correction: Oct. 28, 2014