One Dead in Shooting At Canadian Parliament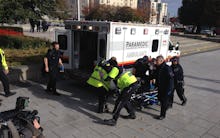 Update, 10/23 8:26 a.m. ET: Royal Canadian Mounted Police have confirmed to the CBC, that there was only ever one gunman in the Ottawa shooting. 
Update, 4:43 p.m. ET: Reuters is reporting based on sources familiar with the matter that Canadian police are investigating a man named Michael Zehaf-Bibeau as a possible suspect.
Original story: A gunman who shot a Canadian soldier in Ottawa was chased by police into the center block of the Canadian Parliament, Reuters reports. More than 30 more shots were fired inside the building, an eyewitness told Reuters.
Ottawa police told the Associated Press they had a call at 9:52 a.m. Wednesday with a report of shots fired, and witnesses reported seeing a gunman running toward Parliament Hill, which is under lockdown.
Reuters reports that an Ottowa hospital has received three patients affected by the shooting incident. The hospital says two of the three are in stable condition.
Prime Minister Stephen Harper left the bulding safely. Reuters reports that more shots were fired inside the center block of parliament after members of parliament evacuated the area.
Raw footage from a Globe and Mail reporter shows scene inside Parliament building under lockdown.
This is a developing news story. Follow @World_Mic for the latest updates.