Google and This Mysterious Startup Want to Make Your Smartphone Screen Obsolete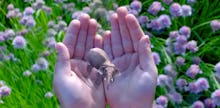 We don't know what this secretive virtual reality company is capable of yet, but Google and other firms are willing to spend more than half a billion dollars to find out.
The tech giant leads a group of companies, including chipmaker Qualcomm and the private-equity firm KKR, that together poured $542 million into Miami-based Magic Leap, the Wall Street Journal reported. This makes it one of the largest venture capital deals in recent memory. Even though the deal puts the value of Magic Leap at slightly less than $2 billion, what the business does is a mystery to many.
The business: From its website, which features a tiny elephant being held, a school of seahorses floating in a classroom and a whale flying out of the ocean over a beach, you might think Magic Leap is in the business of fantastical zoology.
But its work is more in line with virtual reality. Magic Leap wants to project images into your eyes, essentially creating 3-D images around you without the use of unwieldy goggles, headsets or any other trappings of virtual reality. The end result might look something like the projection technology in Minority Report.
When asked about what his company does, founder and CEO Rony Abovitz responds, well, like the founder of a startup. "Magic Leap is going beyond the current perception of mobile computing, augmented reality and virtual reality," he told the New York Times. "We are transcending all three, and will revolutionize the way people communicate, purchase, learn, share and play."
What it means: It's not very difficult to find a startup claiming that it's going to revolutionize everything about how for everyone does everything. But clearly Google has some faith in Magic Leap, even if we haven't seen any actual tech from them yet.
To underscore that faith, Google's Sundar Pichai, who runs Android, Chrome and Apps, will join the Magic Leap board, according to the Wall Street Journal. Google may be hoping that Magic Leap can compete with (or maybe even "transcend") Oculus Rift, the virtual-reality-headset company Facebook bought for $2 billion earlier this year.
Oculus Rift has a physical headset that people can already use, though. It may be years before we hear from Magic Leap again, adding it to Google's far-off expenditures, like the robotics companies it can't stop buying. Google may be today's big thing, but it wants to be tomorrow's big thing, too.