This Man Is About to Change Hip-Hop — And He Just Released the Viral Video of the Week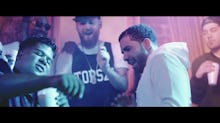 On Tuesday, one of the most confusing hip-hop songs of the year went viral. Fittingly named "Tuesday," the oddly addictive debut single from rapper and Drake-best-friend iLoveMakonnen has already racked up 300,000 views, despite being one of the most unassuming, confusing and eerie hip-hop tracks ever recorded. And it's the clearest sign yet that this strange new rapper is about to blow hip-hop wide open.
iLoveMakonnen, real name Makonnen Sheran, has caught the ears of some major players with his peculiar sound and even more peculiar story. Drake, the rapper's biggest champion, signed the young rapper to his OVO Sound label. He appears beside Makonnen on "Tuesday" to celebrate their new partnership. Now with OVO behind him, iLoveMakonnen, the most unlikely success story in rap, is poised to redefine what hip-hop can sound like and what an MC can be. He embraces his weirdness rather than trying to conform to the standard hip-hop image, making strange spacey beats to match his off-the-wall past. His style and music has a clear message: Be comfortable with your strangeness.
The video highlights a lot of iLoveMakonnen's weirdness that makes him such a hip-hop anomaly. It's filled with normal-looking people mouthing his lyrics as they go through regular Tuesday routines, Makonnen himself looking like the most unfantastic dude of the bunch. He sing-song raps with a truly odd flow. And the scene is peppered with pink-haired mannequin heads that he has painted himself since the time he was working toward a degree in cosmetology. Classmates used to tease him about the mannequin heads, but he always shrugged them off, saying, "I'm going to make these dolls famous. I'm going to take them all over the world." 
Makonnen has had his fair share of far more serious obstacles to overcome. In 2007 he was convicted of involuntary manslaughter for accidentally shooting his friend while trying to disarm him. He wrote his first music under the name I Love Makonnen during the two years he spent under house arrest.
"Everybody was out to hate me and hang me," Makonnen told Fader about the years that followed that incident. "It was just Hate Makonnen Fest. A big Makonnen Ain't Shit Fest. All the negative shit that you could think about the name Makonnen, they threw it at me. If I let the outside hate get inside of me, I would have probably killed myself. That's what they were trying to push me toward. But I knew the truth about me. I love Makonnen. Just say it in your mind and you'll start believing it. I used to chant it in my house. I had to love myself and stay strong."
Facing all that heat gave Makonnen the strength to embrace all the quirks of his artistic identity. His success has proven a fascinating point about the state of modern hip-hop. 
"It's not about being marketable anymore. It's about being unmarketable," he told Fader.
He's absolutely right. Many of today's most successful rappers are those furthest from the "traditional" MC mold. Mac Miller, who signed a $10 million deal with Warner Bros. Tuesday, raps about cereal more than he raps about women. Chance The Rapper records covers of children's TV show theme songs. Kendrick Lamar doesn't smoke weed and writes songs about how damaging drinking and club culture can be. And iLoveMakonnen paints mannequin heads and tells us to embrace all those things that make us poorly adapted weirdos.
It's a heartening trend. The faster we do away with traditional notions of what rap should be, the more open our musical field will become. We'll create more space for innovation, fresh sounds and stories like iLoveMakonnen's. The genre will thrive, and we'll all win.
h/t Fader