One GIF Shows What the World Series Would Look Like Without Immigrants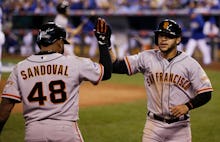 As the World Series unfolds between the Kansas City Royals and the San Francisco Giants, it's worth remembering what makes America's pastime so, well, American.
One look at the everyday lineups for the Royals and the Giants shows that players born outside the United States make up a larger proportion of baseball's best teams than you would expect.
Pablo Sandoval (Venezuela) and Angel Pagan (Puerto Rico) comprise 22.2% of San Francisco's regular batting order, while Salvador Perez (Venezuela), Omar Infante (Venezuela), Alcides Escobar (Venezuela) and Nori Aoki (Japan) represent 44.4% of Kansas City's everyday lineup.
Source: Baseball-reference.com, MLB.com, image courtesy of sportsclipart.com. GIF by Chris Walker.
Few sports embody the American ideal of the melting pot as completely as baseball. A total of 26.3% of the players on MLB's opening day rosters were foreign-born, compared to 23.7% for the NBA and just 2.88% for the NFL.
By comparison, the United States foreign-born population is 13%.
In other words, baseball has twice the share of immigrants compared to the U.S. population, and almost 10 times the share of the NFL.
Baseball reminds us what America is supposed to stand for, the ideal that regardless of background, through sheer determination and talent, anyone can succeed in this country — in a word, meritocracy.
That gives baseball particular significance in America today, where the idea of meritocracy is crumbling. The middle class is stagnating, a college degree is no longer a ticket to a good job and money increasingly buys influence in major elections.
Baseball is a rare bright spot where meritocracy still exists. It wasn't always that way, but the sport has come a long way since the era of Jackie Robinson. Baseball's progress toward more openness reminds us that barriers to success can be overcome, and that even old institutions can change for the better.
Correction: Oct. 27, 2014
Sources for pie charts: MLB.com. NFL data from analysis conducted by the BleacherReport, NBA.com, Congressional Budget Office. Graphic by Chris Walker. Baseball designed by Ryan Choi from the Noun Project. Basketball designed by Massimiliano Mauro from the Noun Project. Football designed by Ema Dimitrova from the Noun Project. United States designed by Juan Pablo Bravo from the Noun Project.