Vivid Photos Show What America's New War on Terror in Syria Actually Looks Like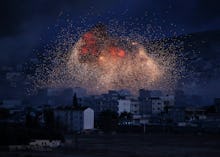 For more than a month, Kurdish militia and Islamic State fighters have battled on the streets of Kobani, a small town straddling the Syria-Turkey border that has become a focal point of the West's military campaign against IS. While American officials admit Kobani may fall, an estimated 135 U.S. airstrikes have pounded Kobani so far, weakening the militants' control.
Thick smoke and flames from an airstrike by the U.S.-led coalition rise in Kobani, as seen from a hilltop at the Turkey-Syria border Monday. 
An airstrike on Kobani sends smoke and dust into the air, as seen from the Turkish-Syrian border in the southeastern town of Suruc, Turkey, on Wednesday. Turkey will allow Iraqi Kurdish fighters to travel through its territory to reinforce the Syrian Kurdish force.
Syrian Kurd Kiymet Ergun, 56, celebrates in Suruc following an airstrike on Kobani Oct. 13.
 An airstrike in Kobani on Tuesday.
An explosion from an airstrike illuminates buildings in Kobani Monday. 
Dust, smoke and heat pour off an explosion from an airstrike on Kobani Saturday.
An explosion lights up the night sky in Kobani Saturday.
More than 400,000 people from Kobani and its surrounding villages have fled to neighboring Turkey.
A Kurdish refugee from Kobani prepares tea in front of her family's tent in a camp in Suruc Wednesday. 
Thick smoke and dust rise in Kobani from an airstrike by the U.S.-led coalition Wednesday.
Syrian refugees from Kobani board a truck on the Turkish-Syrian border as fighting intensifies on Oct. 5.
Wednesday, mourners in Suruc carry the coffins of Kurdish fighters killed in Kobani in a battle against IS militants.