New Details from UNC's Academic Scandal Reveal a Problem Even Bigger than Imagined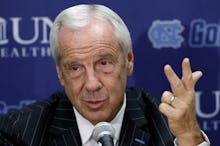 We knew UNC's student-athlete academic scandal was big. We didn't know it was this big.
UNC-Chapel Hill released details Wednesday from an independent investigation that show the extent of student-athlete participation in "paper classes," courses designed to give players the appearance of an education, rather than an actual one. The investigation claims that 3,100 students, almost half of them athletes, took part in these courses over a span of 18 years.
Although the investigation emphasized that "no current coaches were [involved or] aware" of the illegitimate classes, questions linger how the administration and the coaches, especially basketball coach Roy Williams, allegedly had no idea about the extent of this operation.
From 1993 to 2011, these classes became part of a substantial number of student-athletes' academic course load. They required no class attendance and involved completing one paper by the end of the semester. Some of those final papers turned out to be as short as one paragraph in length and still received high marks.
Mary Willingham, a former UNC academic adviser who helped trigger the investigation, told ESPN's Outside the Lines that she believed that the "dean of the college," among others, was complicit in allowing this practice to continue. She also believes that team coaches knew what was going on as well, in doing whatever was necessary to keep barely literate athletes on the field or court.
Former UNC football player Deunta Williams said he thinks "the coaches knew enough to understand what was going on" in this system.
Despite the apparent lack of oversight on many levels, only nine employees were fired or disciplined in the scandal, according to UNC's release. Two of those nine individuals include Julius Nyang'oro, former chairman of the Afro-American Studies department, and administrator Deborah Crowder, who managed the paper classes. Nyang'oro was forced into early retirement, and Crowder had retired before the initial allegations came to light.
Former UNC football player Mike McAdoo also came in the line of fire from the university and the NCAA. McAdoo told HBO's Real Sports that he faced sanctions from the university and the NCAA for getting help with citations for his final paper (the paper for a fake class, that no one formally taught). He was advised to take this paper class, and then unjustly disciplined because of it.
Even though they perpetuated a rotten system, these people became scapegoats for an overall systemic failure -- not the dean, not the advisers and definitely not Williams, the $2 million man.
While UNC will take different initiatives, including launching a public records website to increase transparency and accountability, an entire system still failed those student-athletes who graduated from a storied institution like UNC reading at a third-grade level.
Read UNC's full news release here: