This Congressman Just Gave the Worst Ever Speech to a Bunch of High Schoolers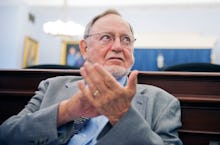 It can be hard for a congressman to relate to high schoolers. But it's safe to say they should probably do their best to avoid profanity, suicide-shaming and bull sex.
Rep. Don Young (R-Alaska) gave a talk to students at Wasilla High School that, from all accounts, went completely off the rails. The 81-year-old, who's the longest-serving Republican in the House of Representatives, was combative with students, according to observers, especially regarding the issue of suicide.
A Wasilla student had taken his own life days earlier, according to the Alaska Dispatch News, making the remarks even more insensitive. There is no video of the event, but Young's office has issued an apology.
The lowlights: After being asked about Alaska's high suicide rate, Young responded that suicide is a result of a "lack of support from family" and a "lack of support from friends," according to school principal Amy Spargo.
Students took offense, given the recent death. When one shouted back that depression is a mental illness, Young reportedly said, "Well, what, do you just go to the doctor and get diagnosed with suicide?"
School staffers in attendance said that Young referred to the student who talked back as a "smartass" or an "asshole" and later told Spargo, "That boy needs to learn some respect."
Another shocking moment occurred when a student asked Young to explain his opposition to gay marriage. "You can't have marriage with two men. What do you get with two bulls?" Young replied, according to Spargo. (The answer, it seems, was a censored version of "bullshit.")
The reaction: Students and staff members were not pleased with how Young conducted himself, given the congressman was there to help students learn about the political system. "We really spend a lot of time at our school talking about how we treat each other," Spargo told the Alaska Dispatch News. "We just don't talk to people that way."
Young's office said afterward that he had contacted the school to express "regret for any offense taken," which is generally a way to apologize without actually apologizing. "In no way did Congressman Young mean to upset anyone with his well-intentioned message," spokesman Matt Shuckerow said. "In light of the tragic events affecting the Wasilla High School community, he should have taken a much more sensitive approach."
Spargo said the school received an email from Young's office, but that it was missing an attachment (possibly an apology, though no one knows for sure). Oops.