There's Another Revolution Happening in China — But Not the One You'd Think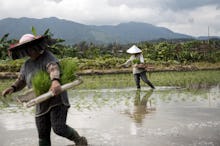 China is in the middle of a quiet revolution in food production — and that's a big deal for the United States.
What does this revolution look like? The Chinese government has been gradually pushing the country's agricultural sector toward large-scale farming, as the march toward industrialization has been turbocharged in both government policy and foreign investments. 
In recent years, the country has replaced small farms with larger plots of land and mega-sized operations. Farmers and entrepreneurs are also receiving industry advice from an unlikely partner: Iowa agribusiness. Across the country, U.S. companies are investing in high-tech hog farms, selling equipment made by Deere & Co. and boosting production of China's largest crop with genetically modified seeds.
The results are astonishing. China's total farm output has tripled since 1978, helping slash its hunger rate from 20% of its population in 1990 to 12% today, according to research by the UN Food and Agriculture Organization and the Organization for Economic Cooperation and Development.
The pace of the revolution is gaining speed as millions of people leave farming for a job in one of the country's numerous megacities. The government in Beijing is encouraging the mass scale migration as it plans to move 100 million people from rural, agricultural heartlands and into urban areas by 2020. 
Increasingly, unattended farms are being replaced by U.S.-inspired agricultural innovations: big farms, chemically intensive production, monoculture crop systems and modern technology.
"More and more farmers see agriculture as a secondary job. Some farmers no longer attach importance to growing crops as they used to," Minister of Agriculture Han Changfu said in an interview with Xinhua last Friday, the China Times reported. But the government has other, unsaid motives. Not only will mass migration support economic growth, it will also transfer rural land, normally under collective ownership, to government control.
The problems: Two key questions emerge from the quiet revolution happening a few hundred miles from the mass protests in Hong Kong. Is China feeding its 1.3 billion people safely, and is it doing it sustainably?
As a recent investigative series by the Des Moines Register and funded by the Pulitzer Center of Crisis Reporting found practices in the country's rapidly growing agribusiness are questionable at best. Sustainably feeding China's more than 1 billion people will determine the fate of food security around the world. By 2050, the global population will balloon to 9.6 billion, and it is estimated that food productivity must double to keep up.
"China embodies many of the world's challenges: A growing urban middle class that demands more meat and dairy collides against environmental constraints such as pollution and shrinking arable land."
A Chinese boy sat on a wheelbarrow near a farm on the outskirts of Beijing on Oct. 4, 2001. A proposed patent for a genetic key to growing high yield soybeans touched off a heated debate across the country
Despite China's agricultural revolution, there are growing concerns about the pace of food production. Recent events have shown how high-tech and industrial farms are sacrificing food safety over rapid production. The most vivid picture of the issue came last year in the form of 16,000 dead pigs found floating in the Huangpu River near Shanghai.
Agronomists pointed to antibiotics as the culprit for a disease that spread among people, pigs and poultry. Farmers injected the pigs with antibiotics to promote growth, which then contributed to the rise of antibiotic-resistant "superbugs."
Whether the country's agricultural revolution is sustainable is up for debate. A fifth of China's land is polluted, according to the FAO report, because of farm chemicals. The large plots needed for farming is also contributing to desertification. Five of China's biggest lakes have "substantial dead zones" due to fertilizer runoff.
In April 2009, Greenpeace activists held a banner and a bowl of rice to protest in the lobby of an office building where Monsanto, an American-based multinational agricultural biotechnology corporation, has their office in Beijing. Greenpeace claimed China's food safety is threatened by Monsanto's patent-controlled genetically engineered rice and corn being developed in China.
The takeaway: "Our dream is very simple: to make agriculture in China like the U.S., to take the best practices from the U.S.," Frank Li, general manager of Dunhuang Seed Pioneer Hi-Bred in northeast China, told the Des Moines Register. Dunhuang is in a joint venture with DuPont Pioneer, the largest producer of hybrid seeds in the U.S.
The simple dream, rooted in U.S. capitalism and financially supported by companies like DuPont Pioneer, may need to re-examine how it will feed China's growing population. As the Des Moines Register's investigation suggests, the agricultural revolution should be founded on completely different practices: small-scale, sustainable, more diverse agriculture.