5 Better Ways to Spend the $4 Billion Wasted on This Year's Campaigns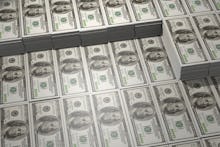 It's official: 2014 will be the most expensive midterm election cycle ever.
Candidates and the "outside groups" who love them are on track to spend nearly $4 billion, according to an analysis by the Center for Responsive Politics. This represents an explosion of spending that should worry anyone concerned about the corrupting influence of money in politics.
In North Carolina alone, incumbent Democrat Kay Hagan and Republican challenger Thom Tillis — and their PAC friends — have already committed more than $100 million to the fight for a single Senate seat.
Much of the heavy spending is coming from those shady organizations not held accountable to the same transparency standards of candidates and campaigns. The Center for Responsive Politics reports that these groups are spending $19.4 million every day.
Sound like a waste of money? It sure did to us. So we came up with more worthwhile things to spend that $4 billion on:
Four years of college tuition for 60,606 people
The average cost of tuition at a public university in the United States is about $15,000 a year. With that figure going up nearly $1,000 annually, four years of college should cost $66,000. 
If we just wanted to pay for this year, we could send 266,666 students on their way. (Note: These are low-end estimates. Out-of-state students at public universities might pay more than $150,000 for four years.)
High-powered computers for 3,639,672 high school students
The latest U.S. Census data figures show that 17 million students are currently enrolled in high school (ninth through 12th grades). Millions have computers in the classroom and at home, but far too many still don't. 
The base model for one iMac desktop computer costs $1,099. Let's buy 3,639,672, and send them where they're needed most.
Body cameras for 661,560 police officers
After a white Ferguson, Missouri, cop shot and killed Michael Brown, an unarmed black 18-year-old Aug. 9, the public suddenly starting asking questions about "body cameras." If Officer Darren Wilson had been wearing one, we would know exactly what happened that day — or what happened that day might not have happened at all. 
Seems like a good investment.
The Bureau of Labor Statistics reported 653,800 "police and sheriff's patrol officers" on the job in 2012. They projected that number to increase by 6% over 10 years, which, if we pro-rate those figures, puts us at 661,560 working today. 
With just about 17% of the money spent on this year's election, we can outfit them all with brand-new body cameras, which retail for an average of $1,000. (A USA Today report found that just 25% of law enforcement agencies are using the technology now.)
Pre-kindergarten for 1.5 million 4-year-olds
In 2011, the New America Foundation set the price tag for universal pre-K at $8,000 per student. Assuming that's gone up a bit along with the number of 4-year-olds (3.1 million three years ago), we should be able to take this grotesque sum of money and turn it into a weapon against future inequality. (Children from low-income families start to fall behind better-off peers at about this age.)
In New York City, Mayor Bill de Blasio secured funds to send 53,000 young students into the classroom for the first time this fall. It will give them, as he wrote, "the foundation they need for kindergarten and a lifetime of learning."
Hear, hear!
The entire budget of the Army Corps. of Engineers
The Army Corps. of Engineers has an estimated budget of almost $4 billion for this fiscal year. That covers everything from paying the 37,000 civilians and soldiers doing the work to the materials and technology needed to build environmentally sustainable infrastructure — see: fixing the New Orleans levees after Hurricane Katrina — protect our coastlines from flooding and clearing sites with "hazardous, toxic or radioactive waste." 
It's all money well spent.
The bottom line: The Center for Responsive Politics says Republicans will end up spending $1.92 billion to the Democrats' $1.76 billion by Election Day, so neither party is gaining a real competitive advantage. This is political trench warfare, and it's costing us — often willing participants — an obscene amount of cash and threatening the "promise of a better tomorrow."
The growing influx — and influence — of money in politics over the past few years should give pause to everyone who cares about the integrity of our democracy. The amount of spending is even more egregious when viewed in the context of these much more worthwhile investments.