The Concussion Photos the NFL Doesn't Want You to See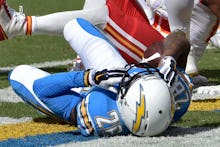 The NFL has insisted they are changing the rules to make the game safer and that the rate of concussions is dropping. But three stories this past week demonstrated that the league's concussion problem is not something that will be easily mitigated.
A study claimed that more than 80% of concussions aren't even reported, which is extremely dangerous considering second impact syndrome can be deadly. This also brings up the possibility that the 42 reported concussions is a misleading figure. 
On Wednesday, Kansas City Chiefs running back Jamaal Charles told ESPN Radio how he hid concussion-like symptoms in the Week 7 game against the Chargers.
And in an article for Sports Illustrated's MMQB, retired quarterback Kevin Kolb discussed how the concussions he had during his career are affecting his life after football. Kolb told Sports Illustrated he continues to face symptoms from past head injures even in retirement. 
"The ringing is like someone shooting a shotgun right next to my ear," Kolb said. "Every second of every day. It doesn't go away." Kolb also said that he had taken "every possible step to fend off concussion. None of it mattered."
Regardless of past settlements with ex-players, it appears that this issue is here to stay whether the NFL likes it or not.
Here are seven photos taken from the season so far that reveal the very painful toll concussions continue to take on NFL players. These are the faces behind the numbers:
Cincinnati Bengals linebacker Vontaze Burfict is helped off the field after suffering a concussion in Week 1 against the Baltimore Ravens.
Medical staff checks in on Baltimore Ravens cornerback Asa Jackson in Week 2 against the Pittsburgh Steelers. Jackson was later diagnosed with a concussion.
Medical staff attends to Jacksonville Jaguars cornerback Dwayne Gratz in Week 4 against the San Diego Chargers. Gratz was inactive for the Jaguars' Week 5 game against the Steelers because of the concussion.
Washington tight end Niles Paul gets helped off the field being hit hard in Week 4 against the New York Giants.
Kansas City Chiefs cornerback Phillip Gaines receives help getting off the field during their Week 5 game against the San Francisco 49ers. Gaines was later on the Chiefs' Week 7 injury report with a concussion.
Arizona Cardinals quarterback Drew Stanton suffered a concussion after being hit in Week 5 against the Denver Broncos.
San Diego cornerback Brandon Flowers suffered a concussion after hitting Charles in Week 7.
This was the same hit that caused Charles to see a "light buzz" around his eyes after the hit.
All of these images shares those jarring pain and dazed looks that these players have after suffering these concussions.
No matter what rule and equipment changes are made, concussions will continue to happen at every level of football and almost always at higher rates than in other sports. And as Kolb points out, there might not even be anything some players can do to "fix" lingering health problems.
Team medical staffs and the players will need to take responsibility and be proactive. If these possible concussions go untreated, it can continue to result in players suffering from deadly brain disease.