The Black Eyed Peas Are One of Music's Greatest Tragedies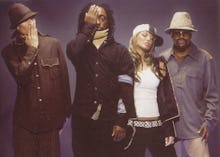 Ten years ago, the Black Eyed Peas were the most promising band in hip-hop. Now, they're a product-placement pop music punchline. What happened?
Fergie. And with her, the loss of one of the most promising rap groups we had.
Last week, will.i.am and Jimmy Fallon's comedic single "EW!" charted on the Billboard 100. It reminded us of the many reasons why we love Jimmy Fallon. But it also reminded us that will.i.am used to be a fun, funny and soulful rapper. Nowadays, the Black Eyed Peas are an extremely successful pop group that everybody (especially Kanye) sort of hates. They played a Super Bowl halftime show. Their albumsTHE E.N.D. (which won the Grammy for Best Pop Vocal album) and Monkey Business (which went triple-platinum in the States and sold over 10 million copies worldwide) spawned such industrial strength ear worms as "I Gotta Feeling" to "My Humps" and, of course, "Boom Boom Pow."
But it wasn't always like that. In 2003, the band released Elephunk's "Where Is The Love?" a big-hearted rap so powerful that it brought an oddball rap group from L.A. right into the public eye. Suddenly, there was a powerful force countering all the macho posturing in rap and the shallowness of pop — there was a catchy song delivering incisive cultural criticism about world peace in the wake of 9/11. And it became a massive global hit.
To get the crossover appeal, will.i.am and Justin Timberlake worked together on the lyrics, and Timberlake clicked with its socially conscious message immediately. 
At the time, the band's label didn't think the 15-song album had enough hits on it. They thought "Where Is the Love?" would flop and they didn't like "Let's Get Retarded" either. The band was committed to their songs and message, though, not to the potential for a hit. They pushed the album through. Since, it has sold more than 9 million copies.
But it was also the first time the group recorded with Stacey "Fergie" Ferguson. Pre-Fergie, there were only three Peas — Taboo, Apl.de.ap and will.i.am. And while they hadn't topped any charts yet, the threesome had released two solid rap albums, Behind the Front and Bridging the Gap, within two years of each other. It was a different time: Their approach was simple, their beats were clean and their rapping made sense. But Fergie and the success of Elephunk began chipping away at their sound. Slowly, the Peas mutated.
Compare an early single like "Joints & Jam" to anything prominently featuring Fergie — "My Humps," for instance. The original Peas had mastered the art of the catchy chorus, but they balanced it with clever and punchy verses that showcased each rapper's personality. 
For example, Taboo's verse from "Joints & Jam":
"Got the state's appeal with the joint's that real / I don't need no steel to make my point / Get down and dirty cuz that's my joint / Ha! We preferably make all points / Through a nation we build off the musical field / Or a visual thrill, we do what we feel"
And Fergie's 2005 hook from "My Humps":
"I'ma get, get, get, get you drunk / Get you love drunk off my hump / My hump, my hump, my hump, my hump, my hump"
Fergie became the primary vehicle for the Black Eyed Peas' rise to pop stardom, though. She not only brought sex appeal to the all-male dynamic, but she also brought a heavy emphasis on catchy hooks. Most BEP tracks just became repeated words ("Imma Be," "Boom Boom Pow") rather than meaningful, socially conscious verses. And slowly, she and will.i.am became such massive pop stars that the other Peas — each a strong rapper in his own right — became irrelevant.
"Where Is The Love?" is the pinnacle of what the early Peas could achieve. It may have "saved" the Black Eyed Peas in the realm of popular music and laid the foundation for their pop music fame, but it's tragic because it showed us what they failed to preserve — the ability to deliver smart, socially conscious rap that could influence and inspire, not just entertain. Will.i.am has now forced himself into the heart of the industry — more business man than musician — and the music has suffered tremendously. 
But once he rapped the following in the early BEP track, "Fallin' Up": 
"We don't use dollars to represent / We just use our inner sense and talent"
If they'd held onto that, who knows what pop music could be today. 
Correction October 26, 2014 - An earlier version of this story stated that THE E.N.D won the Grammy for Album of the Year. It was nominated, but it did not win. It won Best Pop Vocal album that year.