In One Tweet, Chrissy Teigen Sums Up the Sad State of Gun Violence in America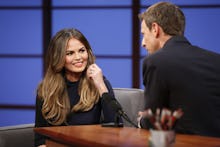 The news: On Wednesday, Canada experienced a rare instance of gun violence when a gunman killed a soldier at Canada's National War Memorial before storming the Parliament building in the country's capital of Ottawa. It's also the second time this week that Canadian soldiers have been attacked.
But while these events have fostered a discussion about terrorism in Canada and the country's increasing involvement in the fight against the Islamic State, they also led to an unexpected controversy when American supermodel Chrissy Teigen tweeted this Wednesday:
Teigen, known for her opinionated and unapologetic tweeting, immediately faced backlash from those who felt that she was making light of a tragedy. Teigen even received death threats.
We see these kinds of discussions every time there's a highly public shooting. While the timing of Teigen's comments may have been inappropriate, her point about the prevalence of gun violence in America stands. The U.S. remains No. 1 in both gun ownership and per capita gun-related homicides in the world.
"The country has to do some soul-searching about this," President Obama said in June, referencing the Sandy Hook tragedy hours after another school shooting in Oregon. "This is becoming the norm and we take it for granted in ways that, as a parent, are terrifying to me."
Yet there hasn't been much tangible change. The defeat of last year's bipartisan measure for mandated background checks on gun sales was a failure for the Obama administration. And while Obama announced executive actions to strengthen federal background checks for gun purchases, he admitted that they were not enough to truly reform gun laws. In order to do that, the public must pressure lawmakers to do something.
"The only thing that is going to change is public opinion. If public opinion does not demand change in Congress, it will not change," Obama said in June.
Even now, public opinion is still a problem. According to an Associated Press-GfK poll last December, barely half of Americans thought that U.S. gun laws ought to be stricter and 15% said they should be less strict. 
Teigen's comments and the resulting backlash represent the same cycle that we've grown used to in American media: There is a well-publicized shooting, someone makes a comment about gun violence in America and they're criticized for politicizing a tragedy. 
But though it may seem ghoulish to use a shooting to start a national discussion about a political issue, the fact remains that it takes high-profile events to spotlight a contentious topic like gun violence, which often fades from public view as soon as the mainstream media stops covering it and moves on to the latest tragedy.