Will Smith Is Bringing 'Hitch' to Television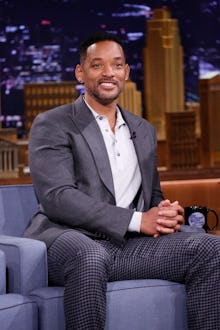 If your Tinder and OkCupid dates are not going well, Will Smith is here to help. Hitch, the 2005 romcom starring Smith as a professional dating consultant that brought in close to $370 million worldwide, is coming to television to solve all matters of the heart.
Entertainment Weekly reports that Hitch, created by FOX, will be "a workplace comedy that explores dating and sexual politics." If you're worried about the creative integrity of the date doctor being compromised, fret no more: Hollywood power couple Will and Jada Smith will be executive producers for the show.
When the movie premiered in 2005, the dating climate was not defined by the swipe-rights and profile views it is today. And in addition to the world of online dating, men and women are marrying later. It'll be interesting to see not only how the movie translates into a television format but also how it acknowledges the current dating dynamics.
Other shows about dating have begun to fill networks prime-time slots, such as ABC's Manhattan Love Story and NBC's A to Z. But with their "meh" ratings, it's unclear whether they'll survive past one season.
Hitch isn't the only movie getting the small-screen treatment. Marley & Me, Monster-in-Law and School of Rock are all titles being repackaged for the tube.
Until Hitch is ready to go, we'll be practicing our dance moves.