Hip-Hop's Latest Obsession: Erectile Dysfunction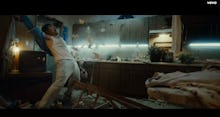 Before Beyoncé, Jay Z had "hard dick and bubblegum" for all the ladies. Eminem told us about his member, explaining that, "It hit the ground and caused an earthquake and power outage." For a long time, hip-hop was defined by unrealistic and unhealthy ideas about masculinity. But no longer.
Recently, a new generation of rappers have been taking the issue on, changing the myth by speaking openly on something 41% of men are familiar with: erectile disfunction.
These rappers are opening up about a different side of traditional masculinity. Childish Gambino, for instance, recently got nervous trying to please two women in "The Worst Guys": "I had a ménage, and murdered the vag' / But, afterwards, it was awkward as fuck / Cause I'm nervous as fuck and could not get it up / I-I-I-I-I need a minute, cold water to the face / I-I-I couldn't finish, got the Uber from her place."
Tyler, The Creator got nervous on "Splatter" after drinking too much at a party. Meanwhile, Ab-Soul talked down an aggressive woman who simply couldn't understand why the man she wants isn't "manly" enough for her: "He hesitated, and she say 'Why you push me? / If you don't get this pussy, then you a pussy, nigga.'"
Today's rappers have also been a lot more open about what their sexual escapades are really like outside of the party-hard personas they flaunt in their music. ScHoolboy Q admitted, with unnecessary candor, on the Angie Martinez Show that his "sex life sucks right now" due to substance abuse issues. 
Fifteen years ago, you would never hear anything like that. When gangster posturing was all the rage, it would have been career suicide for rappers to talk like this. This, then, is a sign that our most honest and socially conscious music is willing to tackle something we talk about all too rarely: The pressures of a traditional definition of masculinity — the kind of cultural machismo that breeds misogyny and insecurity.
Men within and well outside of hip-hop struggle with the gap between the male myth and the male reality every day. Only 31% of men report having had difficulty getting it up, while 41% of women say they've seen their partners struggle. At least 10% of people are lying. This is only a small example of our unrealistic standards for masculinity at work, but it goes a lot deeper and gets a lot darker. Impressionable minds can stray into some pretty devastating emotional territory when they try to emulate our culture's "ideal" male. 
And for too long, hip-hop has only encouraged that.
The more open and honest hip-hop becomes about exploring uncomfortable and unmasculine themes like erectile disfunction, or emotions, the closer we can get to finding out what actually makes a man. Capturing the nuances, anxieties and vulnerabilities at work in love and sexual encounters also takes far more lyrical skill and generally makes for a more expressive and emotionally diverse music. 
Talking openly and honestly about sex's inescapable awkwardness, we can create a more open, diverse and sustainable genre that isn't based on a myth but on the realness.