Jessica Lange's Cover of Lana Del Rey on 'American Horror Story' Is Supreme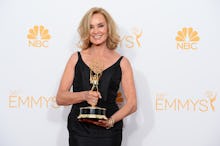 Wednesday's episode of American Horror Story: Freak Show brought the usual freak show frights and shrieks, but many fans were screaming in delight over leading lady Jessica Lange's fantastic cover of  "Gods & Monsters" by Lana Del Rey.
Lange's character, Elsa Mars, nails the eeriness of the ballad while decked out in full carnival chic — a long black dress, feather boa and heavy-red lipstick. The lyrics "In the land of gods and monsters, I was an angel" sound even more mysterious when they're performed by the ring leader of a freak show. Check it out:
The audio of the video is a little off; a higher quality version is available here.
Lange's cover is the third performance of the season. In the season premiere, her character sang David Bowie's "Life on Mars," and Dot and Bette Tattler (Sarah Paulson) debuted on the music scene with Fiona Apple's "Criminal" on last week's episode. 
Show creator Ryan Murphy told the Wall Street Journal the musical acts were inspired by Baz Luhrmann's Moulin Rouge, adding that the outcasts will only be singing "songs by artists who have self-identified as freaks."
This isn't the first time American Horror Story dabbled in music. Last season's coven-centered plot featured Stevie Nicks singing "Seven Wonders" as a tribute to the witches' magical abilities.
h/t Vanity Fair