Photographer's Powerful Project Proves Sexual Assault Cannot Destroy the Human Spirit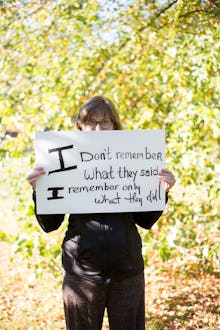 "I do this project for the little girl who was molested, and then raped, by her stepfather."
With those powerful words, photographer Grace Brown sums up the inspirational heart of her photography project: The idea that the human spirit can withstand almost anything. Brown's Project Unbreakable, started in 2011 on Tumblr, has allowed dozens of male and female victims of rape and sexual assault to turn their vulnerability into power by giving them the space to speak the violence they've experienced.
The courageous results are incredibly poignant, if sometimes hard to look at:
"I have been a photographer since 17, so that's why I began the project photographically," Brown told Mic. "Originally, I had planned on starting a photography project about catcalls — hence the quotes — but after hearing my friend's story, I woke up with a very clear vision of a project involving quotes from sexual assault survivors' attackers."
At first, however, Brown said she didn't imagine how cathartic the project would be — not only to those who participated but to those who visited the Tumblr site. 
"In the beginning, I didn't even realize that it would be healing. Originally, I just wanted to show the numbers and be able to say, 'Look at how many people this has affected.'" she told MSNBC. "I realized later on that it was really powerful for people to take back these words, and I think in seeing them in a photograph, it solidifies it. Someone in the press described as (them) having the last word."
Brown believes the juxtaposition of word and image makes for a "very powerful" statement. 
"These words," she told Mic, "seeing them visually, glues them into your brain ... and I wanted something that people wouldn't forget. It's easy to read a statistic and let it fall away from your memory after a few moments."
Coming up to its third anniversary, Project Unbreakable has had a somewhat unintended impact — its effect on Brown's own life. 
"What's moved me most is the astounding variety of people who are touched by it," she said. "Whether it is a survivor next door to me or half a world away, or a parent or friend or girlfriend of someone affected — the fact that some many different types of people moved by it and it is really incredible. Every email I get is an honor."
The project continues to evolve in both size and subject matter. Brown told Mic she opened the project this month, which is also Domestic Violence Awareness Month, to include child abuse and domestic violence survivors, and she sees it continuing to expand in the future.
The project's message continues to resonate perhaps because of the sobering scope of the problem. According to the National Coalition Against Domestic Violence, "1 in 5 women and 1 in 59 men in the United States has experienced rape in [their] lifetime," and "9.4% of [those] women ... have been raped by an intimate partner in their lifetime."
Brown is relying on an age-old principle dating all the way back to Aristotle: Art can be used for catharsis. Her photographs demonstrate the unbreakability of the human spirit, no matter the obstacle. Sexual assault can happen to anyone — men, women or children — but by seizing the language of their accusers and, essentially, assailing their assailants, these people move beyond victim status. They become survivors.
h/t BuzzFeed