9 Numbers About Hillary Clinton That Matter More Than Her Age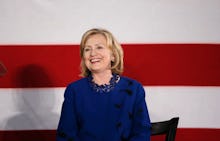 Former Secretary of State Hillary Clinton turns 67 Sunday.
Of course, this will make her subject to many unfair attacks about whether she's too old to be president, but this is nothing new. Republicans use Clinton's age to argue she's unfit for office, even though she would enter at the same age Ronald Reagan did in 1981 if she wins in 2016.
As the adage goes, age is just a number, and Clinton shows no signs of slowing down. If anything, she's just getting started. Young voters have grown up with her in the public eye, and they're enthusiastically supporting her as she preps for a run in 2016. 
Clinton's lifetime of accomplishments is worth celebrating. So, happy early birthday to you, Hill. And rather than obsessing over the number of years she's been alive, we should be pouring over these nine numbers from Clinton's life, all of which are much more noteworthy than her age.
18 million
That's how many votes Clinton received in the Democratic primary in 2008. It was by far the most votes cast for a female candidate in history and a historic achievement for women across the country. 
As Clinton said in her concession speech in June 2008, "Although we weren't able to shatter that highest, hardest glass ceiling this time, thanks to you, it's got about 18 million cracks in it, and the light is shining through like never before."
58
That's the percentage of young liberals supporting Clinton ahead of the 2016 campaign. The 58% reported by a recent Fusion poll blows other potential candidates out of the water. Joe Biden came in second among Democrats with the support of 13% of Millennials. Paul Ryan was the most popular Republican with the support of 16%.
956,733
That's how many miles Clinton traveled on a plane over the course of her four-year tenure as secretary of state. She was the most well-traveled secretary of state in history, logging enough miles to circle the Earth over 38 times. 
112
That's how many countries Clinton visited during her four years as secretary, outnumbering all of her predecessors. Her tenure was extremely active: She met with world leaders 1,700 times during the course of her travels.
0
That's the number of first ladies before and after Clinton who have served in public office. She also made history by becoming the first woman to be elected statewide in New York in 2000.
430 million
That's how many people have been directly affected by the work of the Clinton Global Initiative, the family's philanthropic foundation. The foundation increases opportunities for women, boosts economic growth, addresses climate change and improves global health and wellness.
$103 billion
That's how much the Clinton Global Initiative has pledged to 2,800 different philanthropic projects around the world. The funding supports efforts to provide HIV and AIDS medication to 8.2 million people, help 28,000 African farmers improve their crops and supply 26,000 American schools with healthy food options.
32
That's how many years Clinton has been on the political stage. Her first foray into electoral politics was as Arkansas' first lady during her husband's 12-year tenure as governor. During Bill Clinton's two terms as president, she took on a range of initiatives as first lady, including spearheading an ill-fated attempt at health care reform. In 2000, she was elected New York state senator. Clinton served as secretary of state in the Obama administration from 2009 to 2013.
85,900 
That's how many copies Clinton's latest memoir, Hard Choices, sold during its first week of publication. The book covered her time as secretary, including the Benghazi attack and the hunt for Osama bin Laden. As many pointed out, the memoir read as a campaign book, though in the pages she claimed, "I haven't decided yet." We'll see about that.
And these nine are just a handful on a long list, from the number of speaking engagements that brought crowds to their feet to the many compelling interviews.
But as much as we can list success after success to take down her critics, the force of Clinton is unquantifiable. Sixty-seven years old and counting. Let's consider her birthday proof that age is, really, just a number.