11 Steamy Lines From the One Direction Novel That's Been Read a Billion Times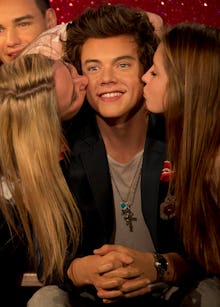 Twenty-five-year-old Texan Anna Todd had a secret. Initially unbeknownst to her husband, she spent a year writing an epically long work of One Direction fan fiction called After. The story drew over 1 billion views on a fan fiction site and millions of comments. Then, Simon & Schuster came knocking with a six-figure deal, Paramount came calling about the film rights and she couldn't keep it a secret any longer. 
After is about to be a big deal — and it is both awe inspiring and very hilarious.
The story is 50 Shades of Grey-lite starring Harry Styles, One Direction's most recognizable member, as a bad boy who hides a tender heart under his tanned and tattooed chest. As Todd explains, "This ongoing trilogy tells the story of Tessa Young, an optimistic freshman at Washington State University, and the dark, troubled guy who has stolen her heart."
The published version will tell the same story with much cleaner prose and several extended sex scenes. Here are some of the moments we hope they won't lose — typos and all — paired with a set of truly disturbing photos of Styles' wax statue. Enjoy.
"'If you call me Theresa one more time ...' I warn and he laughs. I try to picture him without his tattoos and piercings, he is actually attractive but his personality."
Those bad boy jerks are just too irresistible sometimes.
"A drunk guy climbs up and joins them, his hands gripping Steph's hips. I expect her to smack his hands off but she just smiles and pushes her bottom against him. Oh."
Oh, indeed.
"'Oh no! I was really looking forward to hanging out with you,' he dryly remarks, his voice so full of sarcasm that I want to throw a book at his cocky head."
Cocky indeed.
"'Lets play truth of dare' Zayn slurs and their small group of tattooed friends gather around the couch. Molly passes a bottle of clear alcohol to Niall and he takes a swig. Harry's hand covers his entire red cup as he takes a sip."
You know what they say about men with big hands.
"Under his swallows he has a butterfly tattoo on his stomach, it looks much better than a butterfly should on a guy."
Styles can do no wrong.
"I grab the cup of water and take a drink, I can taste a hint of mint on the rim and can't help but think about how Harry's mouth would taste."
Probably like mint.
"'The pad of his thumb captures the tear before it rolls down my cheek. My lips part in surprise from his gentle touch. Who is this guy and where is the snarky, rude Harry?'"
He's been in front of you the whole time, Theresa.
"My conscious and my hormones are battling but my conscious loses at I crash my lips against his, catching him totally off guard."
There's a direct correlation between steaminess and typos.
"For a second I think he may slap me but his hand moves up to my cheekbone and he gently tucks my hair behind my ear."
Whew, we almost went full 50 Shades there.
"'You're so sexy, Tess,' he says. The thought of dirty talk never appealed to me but somehow Harry saying those words is the most sensual and sexy thing I have ever heard."
Just like his lyrics.
"'One touch and you're already panting' His raspy voice whispers. He leans over, moving my feet off of his lap so that he is can bring his mouth to my neck. His tongue makes a flat stripe down my neck and I quiver."
Styles' voice is not raspy! He has a voice of an angel.
h/t Rolling Stone